New Contributor
Mark as New

Bookmark

Subscribe

Mute
Hi, We are working on a Geography Middle School project. Is it possible to mark, display, or color code only areas of a map that are above a certain elevation? Does arcgis online do this? If so, how is this done?
3 Replies

by
jcarlson

MVP Esteemed Contributor
Mark as New

Bookmark

Subscribe

Mute
Yes! In AGOL, you'll need an Imagery Service of elevation data, such as the World Elevation GMTED. (Check the Living Atlas for more elevation datasets.) In the Details panel of a web map, go to Image Display.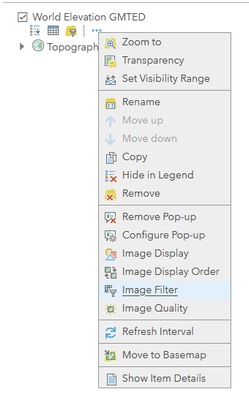 Set the symbology to Classify, and the number of classes to 2. Then set the breakpoint to be the elevation you're interested in and symbolize the "lower" areas as transparent.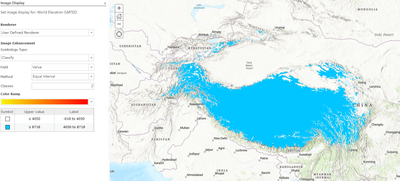 - Josh Carlson
Kendall County GIS

Occasional Contributor II
Mark as New

Bookmark

Subscribe

Mute
Good Morning,
First off thanks for all you do!
This is easy to do but, just like any other analysis, is done against a layer that contains elevation information such as ESRI's Terrain layer. Note: the values returned by this data set are in meters so you might have to do a quick units conversion if your project is using feet for elevation.
Once you add the terrain layer to the map, click the 'More Options' 3 dots on the layer and select the 'Image Display' menu item about midway down the list. If you set the Renderer to 'User Defined Renderer' and change the Image Enhancement symbology type to Classify you will be able to specify elevation bands by entering the upper value for each band. If you change the number of classes to 2 you could specify the upper limit of the first value as the lower limit of the elevation of interest. Admittedly, this is sort of backward thinking but how the interface works.
In the attached image (Capture.png) I set the classes to 2 and specified a value of 1200 m (~4000 ft) for the lower element and set the symbol to no color. This left only elevations above 1200m colored. If you wanted to see a specific elevation range - say 1200 to 1300 meters - then change the number of classes to 3 and set the hi/low symbology colors to nothing (Capture1.png)
Also, I had set the layer transparency to 50% so the underlying map would show through.
Hopefully, this helps your class.
Regards,
Tom

New Contributor
Mark as New

Bookmark

Subscribe

Mute
@ThomasHoman @jcarlson Thank you for sharing instructions. I think my free trial account doesn't allow this so I will contact arcgis/esri to see how much this feature will cost.