New Contributor II
Mark as New

Bookmark

Subscribe

Mute

Email to a Friend
Hi, all.
I have problem with displaying amenities for our State Parks Web Map.
The web map is looking great on desktop, tablet https://arcg.is/05XDT00 (Thanks @XanderBakker )
On computer, it looks great with pop-up, the amenities showing inline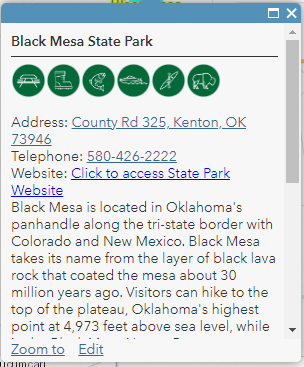 But on my Android phone, somehow, it came out vertical!!! If anyone know how to fix this problem, please let me know. Thank you and be well!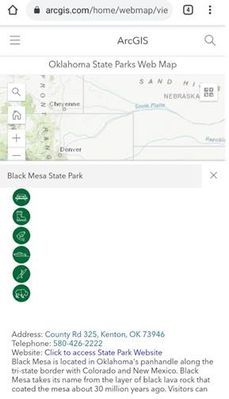 2 Replies

by
XanderBakker

Esri Esteemed Contributor
Mark as New

Bookmark

Subscribe

Mute

Email to a Friend
Hi @DatNguyen2 ,
Just to add a little bit more detail. The HTML used is:
<img style="display:{expression/expr12};float:left;" alt="Picnic" border="0" src="https://otrd.maps.arcgis.com/sharing/rest/content/items/7d6319bddcd8463fa95072771be2e9b9/data" width="35" />
<img style="display:{expression/expr1};float:left;" alt="Fishing" border="0" src="https://otrd.maps.arcgis.com/sharing/rest/content/items/f20a6937189144aebfdeb42217857b37/data" width="35" />
<img style="display:{expression/expr2};float:left;" alt="Hiking" border="0" src="https://otrd.maps.arcgis.com/sharing/rest/content/items/45abe00b44484f84946c02efc8c0b6b0/data" width="35" />
<img style="display:{expression/expr3};float:left;" alt="Archery" border="0" src="https://otrd.maps.arcgis.com/sharing/rest/content/items/496f45f58b8a483c961c00b1f67efe95/data" width="35" /> 
<img style="display:{expression/expr4};float:left;" alt="Biking" border="0" src="https://otrd.maps.arcgis.com/sharing/rest/content/items/52d5725bf8cf47dc94861d057ac2936d/data" width="35" />
<img style="display:{expression/expr5};float:left;" alt="Boating" border="0" src="https://otrd.maps.arcgis.com/sharing/rest/content/items/1313e5abf0ed4ca3965f778359bca3bb/data" width="35" />
<img style="display:{expression/expr8};float:left;" alt="Canoeing" border="0" src="https://otrd.maps.arcgis.com/sharing/rest/content/items/1f47ccd6746d4db685e9a33c7f70a4ee/data" width="35" /> 
<img style="display:{expression/expr9};float:left;" alt="Disc Golf" border="0" src="https://otrd.maps.arcgis.com/sharing/rest/content/items/b3442aabaf9649ccaac67b75b61fb1ea/data" width="35" />
<img style="display:{expression/expr10};float:left;" alt="Horse Riding" border="0" src="https://otrd.maps.arcgis.com/sharing/rest/content/items/0f7359a8768f40a08ff8cb1fdd3addff/data" width="35" />
<img style="display:{expression/expr11};float:left;" alt="Hunting" border="0" src="https://otrd.maps.arcgis.com/sharing/rest/content/items/81fc9360cca549c3857b9931ee1a2b91/data" width="35" />
<img style="display:{expression/expr13};float:left;" alt="Rock Climbing" border="0" src="https://otrd.maps.arcgis.com/sharing/rest/content/items/79e50c9df79445c6a8ee5ac9540fc37d/data" width="35" />
<img style="display:{expression/expr14};float:left;" alt="Swimming" border="0" src="https://otrd.maps.arcgis.com/sharing/rest/content/items/014308e4c92243b99884eb41a854c1e1/data" width="35" />
<img style="display:{expression/expr15};float:left;" alt="Watchable Wildlife" border="0" src="https://otrd.maps.arcgis.com/sharing/rest/content/items/f1be4ca3910d43e0804de06c0bd46639/data" width="35" />
<img style="display:{expression/expr0};float:left;" alt="ATV" border="0" src="https://otrd.maps.arcgis.com/sharing/rest/content/items/d01f5eab653e4b57acaf964bc9c66336/data" width="35" /> 
<img style="display:{expression/expr6};float:left;" alt="Baseball" border="0" src="https://otrd.maps.arcgis.com/sharing/rest/content/items/c9cb4f27cb55462bb91daf1a6af73afc/data" width="35" />
<img style="display:{expression/expr7};float:none;" alt="Natural Center" border="0" src="https://otrd.maps.arcgis.com/sharing/rest/content/items/e2a4146936714d1d99d07f95977d0dbc/data" width="35" />

<br /><br /><br />

Address: {FULLADDR}<br />
Telephone: <a href="{POCPHONE}" rel="nofollow ugc" target="_blank">{POCPHONE}</a><br />
Website:  <a href="{PARKURL}" rel="nofollow ugc" style="color:blue">Click to access State Park Website</a><br />
{Description}
Although you mention that the pop-up works good when displayed on a desktop, it does not behave correctly in every situation. Have a look at "Beavers Bend" in the lower right corner: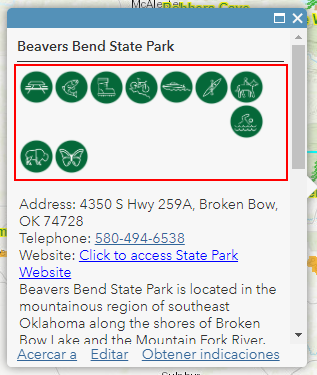 New Contributor II
Mark as New

Bookmark

Subscribe

Mute

Email to a Friend
Updating with ESRI Rep answers:
Hello Dat, I just wanted to reach and update you on your case, #02745608, regarding the pop-up window configurations in your web map. Unfortunately, it looks like this is a known limitation. I have tried to find a workaround, or way to edit the mobile browser configuration, but have had no luck at this time.
Thank you,
Sara
Esri Support Services
https://my.esri.com/#/support/cases/02745608