New Contributor III
Mark as New

Bookmark

Subscribe

Mute
Is there a list that shows what widgets are accessible based on type of license?
I have Apps mainly used by Viewer licenses and I'm unable to find where on the internet there is a list which tells me which widgets can be used by certain license types.
This really should be in the description of each Widget or set as a filter.
I can only tell if I set it up and get them to test and it is greyed out for them before I realise they can't use it.
Thanks
3 Replies

MVP Esteemed Contributor
Mark as New

Bookmark

Subscribe

Mute
Do you mean the widgets in Web Appbuilder?
or you are referring to the app licenses / app bundles included in each User Type?
e.g.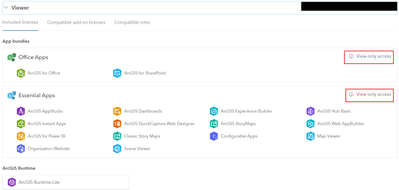 You could visit User Types for ArcGIS Online & Enterprise Licensing (esri.com) and drop-down "Explore User-Types" to view different apps that are included and supported add-on for each User-Type.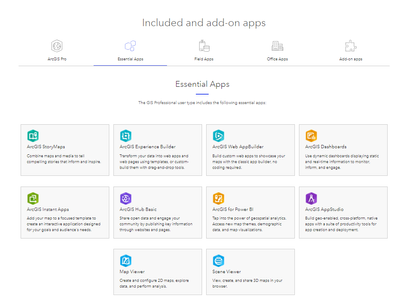 Think Location

New Contributor III
Mark as New

Bookmark

Subscribe

Mute
Hello,
I'm looking at the widgets in the Apps. I've looked in both of these places and neither show a list of the widgets available to that user type.
Thanks

Occasional Contributor II
Mark as New

Bookmark

Subscribe

Mute
Take a look at the user type and role itself. From "User types, roles, and privileges" , "Viewers can't create, edit, share, or perform analysis on items or data." and "Members assigned the Viewer role cannot create or share content, or perform analysis or data enrichment." I assign the Viewer User Type and Roles to high-level management that only needs to view a Web map, dashboard, etc.