New Member
Mark as New

Bookmark

Subscribe

Mute

Email to a Friend
I haven't had to use ArcGIS Online for quite awhile, but I have a need to setup a Collector map for a simple field verification project.
I was hoping I would notice great changes and a nicer interface and functionality, but unfortunately it's like nothing has even changed.
The features in the hosted feature service I published to AGOL look blurry.
I still can't publish feature access layers that symbolize on multiple fields?
This popup configuration tool is the most archaic and painful process I've ever had to use. Why in the world can I not just drag the fields? And why is the window so small? This actually made me not even want to use Collector anymore: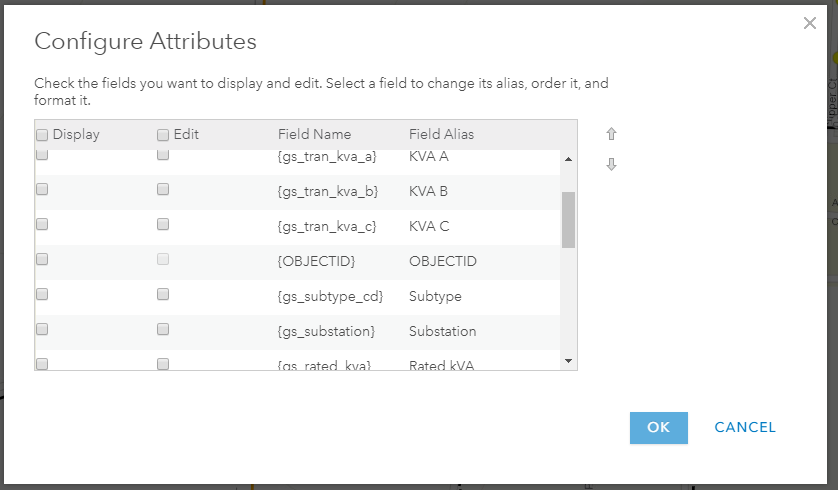 Even the popups look terrible.
The whole thing is just a bad experience.
1 Solution

New Contributor III
Mark as New

Bookmark

Subscribe

Mute

Email to a Friend
Ian: I've experienced everything you mention, and also long for a powerful online mapping platform. Instead of providing the information density of a Rand McNally atlas (yes, I said it; that's what we need with the beauty of zoom & pan on screen!) Esri has apparently opted for the look of a beginner's bad SharePoint page, where whitespace spreads everything out and forces users to scroll forever just to see what they need. Even copying ArcMap's filter & symbology functionality would be instant progress, but Esri is more interested in announcing new this & that in ArcUser magazine than pleasing paying customers. The data world is exploding with promises of DevOps, Agile, and constant improvement but that's falling on deaf ears in digital cartography. If there were any true map authors at Esri, they wouldn't stand for the status quo and would be driving functionality & User eXperience to new heights ahead of customers.
4 Replies