New Contributor
Mark as New

Bookmark

Subscribe

Mute
Hi, I'm working on a personal history project starting with mapping the history of my street. Someone on Reddit suggested this program so I got a trial and started exploring. I found the map ancient African cities tutorial and completed that and was ready to dip my feet in with the beginning of my data set for my street.
Here's the link to the tutorial.
https://learn.arcgis.com/en/projects/convert-a-list-of-historic-places-into-a-map/arcgis-online/
I went through all the steps using the excel spreadsheet and made the map.
I then used the same steps to load my excel spreadsheet with addresses, residents, and occupations. I created a map, but, only one address was found. I then decided that I should add the postal codes for the addresses and added that to my excel spreadsheet.
When I sent back to load that updated spreadsheet the program then told me that excel wasn't supported. I used content/new item, and dragged the file into the box.
So, I created a .csv file and dragged that into the box. However, unlike the tutorial I did not get "Choose Add Microsoft Excel document and create a hosted feature layer.", the step 4 in the tutorial. Instead I get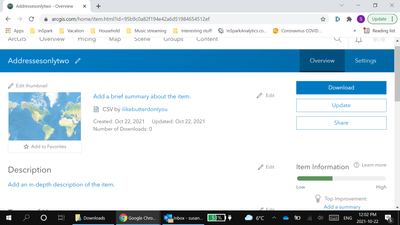 I fiddled around with things like no space in the file name, just, (as above) address, no occupants and occupations, etc.
And, here's the weird part - the tutorial is no longer working as it did. I get the same error message that excel isn't accepted and the same page, as above, when I .csv
What am I missing? Help.
1 Solution

MVP Esteemed Contributor
Mark as New

Bookmark

Subscribe

Mute
Your 21 days student trial might have expired. And then it gets converted to public account. You can't do this activity using a public account.
If you are interested to learn ArcGIS platform and explore more features, you could purchase ArcGIS for Student Use or ArcGIS for Personal Use. These are annual subscriptions with ArcGIS Online and ArcGIS Pro licenses for non-commercial purpose.
Meanwhile, I have just published your data as a hosted feature layer. Feel free to use it.
Claremont Street Map - Overview (arcgis.com)


Think Location
6 Replies