Regular Contributor
Mark as New

Bookmark

Subscribe

Mute

Email to a Friend
In Power Automate, when requesting via POST to the changeFiles endpoint, I am redirected to an azure CDN.
When requesting from Postman the JSON content is returned. I've attempted to mimic Postman requests under many different content type and header/body configurations. To no avail, I am always redirected. Ultimately I am able to get at the edits json in Power Automate, but it via 302 which feels dirty. I want this to work properly. Any tips? @Peter_Klingman @hgaignard
Example changeFiles URL: https://services1.arcgis.com/[tenant]/ArcGIS/rest/services/[name]/FeatureServer/changefiles/[quid].j...
Example Postman code
POST /[org]/ArcGIS/rest/services/[name]/FeatureServer/changefiles/04605422c530[....]debc94.json HTTP/1.1
Host: services1.arcgis.com
Content-Type: application/x-www-form-urlencoded
Content-Length: 205

token=qko6HoysMcv5-[....]FU&f=json
Example Power Automate result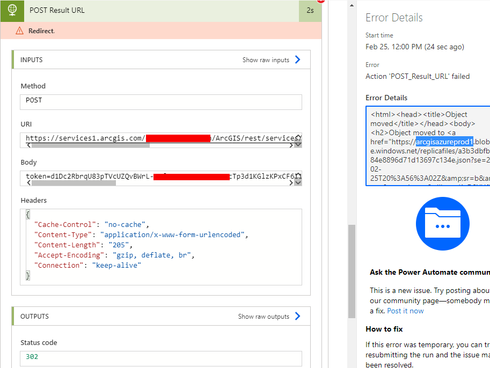 1 Solution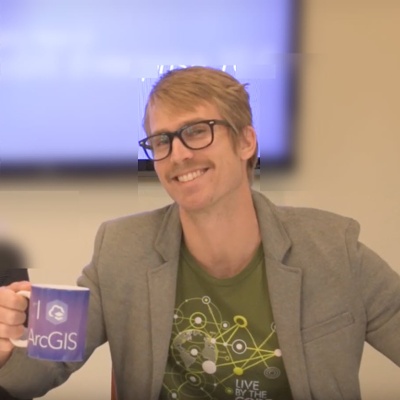 Esri Regular Contributor
Mark as New

Bookmark

Subscribe

Mute

Email to a Friend
Hi @PhilLarkin1 - It's a good question - I reproduced the issue in Power Automate; the redirect is also seen when downloading the change file from the Rest endpoint:

Integromat, Postman, and the Rest UI are able to handle the redirect to Azure storage to get the file without returning any errors but it seems like Power Automate is not able to. Did you end up implementing something like this as a workaround?
https://powerusers.microsoft.com/t5/Building-Flows/How-to-Handle-HTTP-302-Redirects-in-MS-Flow/td-p/...
I did hear the engineers working on webhooks/feature layers have been focusing on Power Automate this release cycle - so there may be some updates within a month or so. I've reached out to them as well to get their take on it.
I hope this helps,
-Peter
4 Replies