Occasional Contributor II
Mark as New

Bookmark

Subscribe

Mute
First I'm going to start this for the ESRI people by stating that formatting is a basic everyday task that should be very simple.
I'm trying to display addresses as labels and the address comes in as 1,612 instead of 1612. I was looking for a way to calculate the field using a SQL statement and couldn't come up with anything. Then I tried to convert the numeric field to a string. Well, the default for strings when you bring them in from a numeric field is 1612.000. I tried to calculate and TRIM the trailing zeros and that didn't work. I'm out of ideas for labeling. If anyone can help I'd appreciate it.
I did find this and haven't tried it yet, but I'd still like to know if there are slightly easier options. Formatting shouldn't be this difficult a thing.
https://community.esri.com/t5/arcgis-online-ideas/attribute-table-float-field-formatting/idi-p/92628...
Thank you
2 Solutions

by
DanPatterson

MVP Esteemed Contributor
Mark as New

Bookmark

Subscribe

Mute
Are you saying you can't create the field as a text field to begin with?
@JoeBorgione any ideas?

... sort of retired...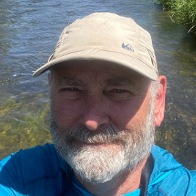 by
JoeBorgione

MVP Esteemed Contributor
Mark as New

Bookmark

Subscribe

Mute
ArcGIS Online is a horse of a completely different color. It always helps to mention the platform you are using up front.
That said, in AGOL as I understand it, numeric formatting is controlled in the pop-up settings, and you can create an expression there that can be used for labelling purposes. In the image below, I am labeling my address points with numeric ID. That is an integer field. Note the commas: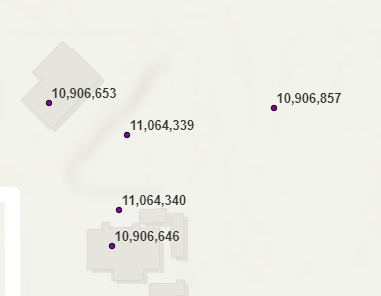 In the three-dot 'More Options' menu in the feature layer table of contents, I select configure Pop-Ups and choose Configure Attributes. There I can turn off the commas in my numeric field: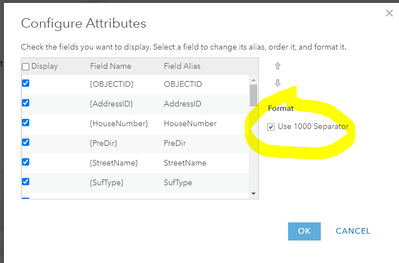 Uncheck and the labels look like this: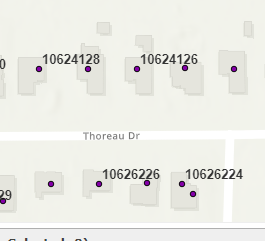 If that field were floating or double, there would have been an option for decimal places.
If you are going to concatenate fields for lables in AGOL can create a 'virtual' field using an Arcade Expression. I can't take the time right now to go into that, but take a look here to start.
That should just about do it....
7 Replies