Occasional Contributor II
Mark as New

Bookmark

Subscribe

Mute

I have created a map in ArcGIS Online and I have shared this map with my organization. The person that this map is intended for has tried several times to open the map and is receiving the message "Basemap is not available. Displaying the default basemap instead."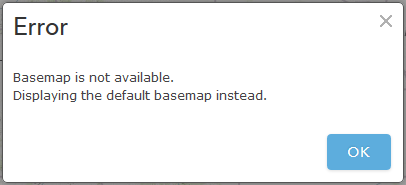 She is receiving this message when trying to open the map in Google Chrome (not IE 11). I am able to open the map without issues in IE 11 and Chrome, but I receive this same message in Firefox.
Does anyone have any idea what is causing this, or have a workaround? My office frowns on installing multiple browsers (Firefox is highly frowned upon).
As always, thank you all in advance for any insight!
Dell OptiPlex 9010
Intel(R) Core(TM) i7-3770 CPU @ 3.40 GHz
8.0 GB RAM
Windows 7 Professional 64-bit OS
AMD Radeon HD 7570
Dual Dell U2414H Monitors
23 Replies