MVP Regular Contributor
Mark as New

Bookmark

Subscribe

Mute
I have no idea why I can't update the view. This setting used to be in the visualization tab. Then it got moved to the settings tab. In the Update View pane I select my layer, then in the second step Update is greyed out. If the second step is optional then why is Update greyed out?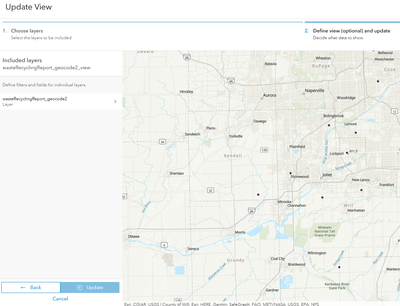 I don't need/want to change anything here, but it's the only way out apparently. So, I randomly set area of interest then hit Update. Then I'm hit with a vague error. Anyone know what's going on here?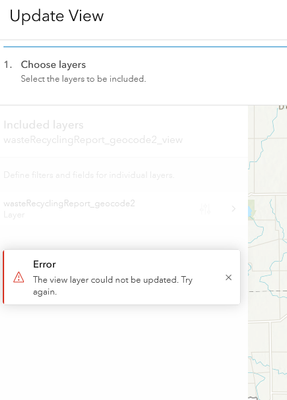 1 Solution

by
jcarlson

MVP Honored Contributor
Mark as New

Bookmark

Subscribe

Mute
Ah! I see. Yes, we also experienced something strange like this when we had a parent layer with views and an overwrite changed something on the parent layer.
If you know of a schema change ahead of time, it works best to change the AGOL layer's schema ahead of the overwrite. When you adjust the parent layer in AGOL, the views can sort of pick up the changes. When the overwrite makes schema changes, the views don't "see" it.
For what it's worth, we abandoned that approach entirely because of views getting broken like this. Instead, we use a script to either selectively apply edits to the parent layer, or else just truncate and append.
- Josh Carlson
Kendall County GIS
5 Replies