Occasional Contributor
Mark as New

Bookmark

Subscribe

Mute
Hi all,
I have a question about how to add two indications on the same serial chart: I want to combine the solved and the total number of features at the same chart.

1 Solution

by
jcarlson

MVP Honored Contributor
Mark as New

Bookmark

Subscribe

Mute
Well, you can use a Data Expression to do this, too. Basically, you'd pull in the reports layer and throw them all into a "total" category, and then take the solved ones and add them again. This should enable you to visualize the chart the way you'd like.
var portal = Portal('your portal url')

// Get reports featureset
var fs = FeatureSetByPortalItem(
    portal,
    'itemid of your service',
    0, // or whatever layer index the specific layer is at
    ['status', 'report_date'],
    false
)

// Output dictionary
var out_dict = {
    fields: [
        {name: 'type', type: 'esriFieldTypeString'},
        {name: 'report_date', type: 'esriFieldTypeDate'}
    ],
    geometryType: '',
    features: []
}

// Iterate over features
for (var f in fs){
    // Add feature to output dict as a "total" type
    Push(
        out_dict['features'],
        {
            attributes: {
                type: 'Total',
                report_date: Number(f['report_date']) // You need to cast the date as a number to be correctly interpreted
            }
        }
    )
    
    // If report is a "solved" type, add it again
    If (f['status'] == 'solved'){
        Push(
            out_dict['features'],
            {
                attributes: {
                    type: 'Solved',
                    report_date: Number(f['report_date']) // You need to cast the date as a number to be correctly interpreted
                }
            }
        )
    }
}

// Convert dict to FeatureSet
return FeatureSet(Text(out_dict))
I used this expression with a sample FeatureSet that had the following records:
| | |
| --- | --- |
| Status | Date |
| solved | Today |
| solved | Today |
| received | Today |
| processing | Today |
| solved | Yesterday |
| received | Yesterday |
| received | Yesterday |
Since "solved" records are added twice, the output FeatureSet had 10 records in it, and I was able to make this chart: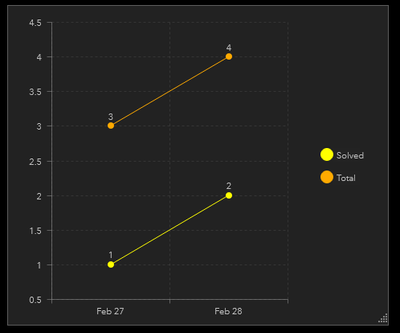 - Josh Carlson
Kendall County GIS
7 Replies