New Contributor II
Mark as New

Bookmark

Subscribe

Mute
Hi everyone,
I have a toy network dataset with two types of lines: Pedestrian lines and a metro line.
I have an attribute called speed-kmh, which is 5 more pedestrian lines and 40 for the metro line. I also have another attribute which gives the length of these lines in kilometers.
When creating the network dataset I created a cost attribute called "hours" by dividing these attributes.
When I perform OD analysis on this network dataset, the calculations seem to ignore the metro line and report the hours only considering the pedestrian route.
Here is an illustration (I am sorry for the bad coloring):
- Blue line represents the metro line.
- Dark lines represent the pedestrian lines.
Normally, with the metro line, the distance between the areas in dark blue should be at most 10 minutes. However I am getting 40 minutes which would be normal as a walking time.
Do you have any thoughts on why I might be having this issue?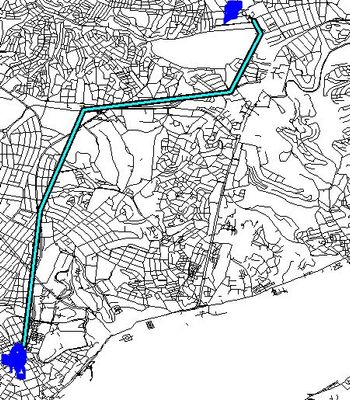 8 Replies