Not applicable
Mark as New

Bookmark

Subscribe

Mute
When I navigate to my the AGM website, login as an admin user, and click on Alerts. I get a message in the middle of the screen that says "Loading Data..." with a blue spinning wheel. The data never loads and I don't get any errors. All of the other pages load: Home, Availability, Categories, ect....
I have alerts configured within AGM Administrator that seem to work. I click the Test button and they flash red and then green again.
Any ideas how to trouble shoot this? I have uninstalled and re-installed the software. Deleted all the configuration and started from scratch.
1 Solution

Not applicable
Mark as New

Bookmark

Subscribe

Mute
Dan,
The issue is probably Mongo v4.2.0. This version of Mongo (4.2.x) is unsupported. We only support Mongo Community Server edition 4.0x, 3.6x, and 3.4x.
Unfortunately you will need to uninstall everything (ArcGIS Monitor and Mongo), download and install Mongo v4.0x, then reinstall ArcGIS Monitor. Choose the previous 4.0.13 release. See attached image.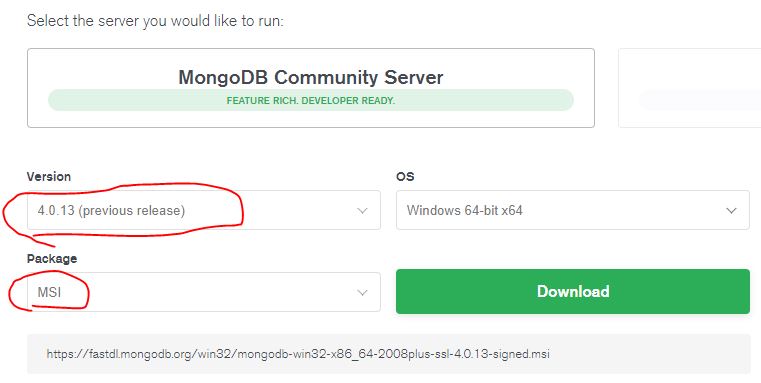 ArcGIS Monitor system requirements—Installation Guides | ArcGIS Enterprise
MongoDB Community Server or Enterprise Server edition version 4.0.x, 3.6.x, or 3.4.x must be installed on the machine where the Monitor Server application is to be installed before you install ArcGIS Monitor. I recommend installing the latest ArcGIS Monitor v10.7.1.
When you go to the Mongo community server website, the default download is 4.2.1 which is not supported
6 Replies