Occasional Contributor
Mark as New

Bookmark

Subscribe

Mute
Hi,
I'm looking for some guidance -- or nudge in the right direction -- for how to rotate (and eventually move) in a scene which contains an ArcGIS Map. I have deployed an app to Oculus Quest 2 goggles, but I can only see the map data. When I rotate the goggles the view rotates with me (not expected... since I can't look around in my view). I'm trying to get expected rotation to work as a first step towards interaction/locomotion with an Esri map.
I've followed the Unity and Oculus doc + online examples, but I've been unable to set up an XR Rig in a way which is compatible with an ArcGIS Map and ArcGIS Camera. Per Esri "the Camera game object must have the ArcGIS Camera component and be a child of an ArcGIS Map game object" (link). At a high level it seems like the support the ArcGIS Camera and Location are adding to be able to display map data is _not_ compatible with recommended pattern for supporting camera rotation/position in VR goggles.
How then to set up an XR Rig and configure the arcgis camera to rotate/move the camera in VR goggles?
This seems like a common need for the Esri user community.
Beyond what I summarized above (XR Rig/Camera), I have also configured my scene's camera (including ArcGIS Camera) with a Tracked Pose Driver, but nothing is working. What I see is either of these two states:
A) "native" Unity objects + camera rotating as expected... but no map data visible
B) ArcGIS Map data visible... but with a) no support for camera rotation and b) no support for camera movement (not really expecting this yet given what I have tried and how the Esri camera-controller is written)
What is the recommended path forward from here? Is there a recommended set-up for an XR Rig which works with an ArcGIS Camera? Or, should I be starting the process of writing my own camera controller without any XR Rig (i.e. replacing this https://developers.arcgis.com/unity/maps/camera/#camera-controller)?
Thanks,
=Cory
CORY EICHER
www.eichcorp.com
cory@eichcorp.com
1 Solution

Occasional Contributor
Mark as New

Bookmark

Subscribe

Mute
I was able to get this working on my Oculus Quest 2 goggles -- including joystick continuous movement -- by following essentially what @GordonCooke posted above. This matched what Esri provided through the support channel. Pasting a snip of my hierarchy here...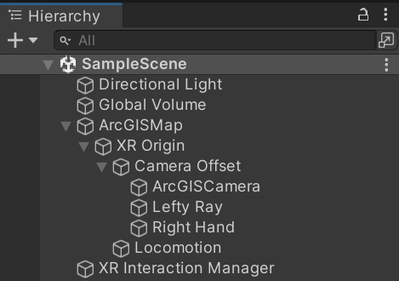 ... Nicely, I did not lose anything I previously had working in my scene, namely snap turn and teleport.
Future-wise, I agree that the community will benefit from some XR examples and also some conceptual doc on building Unity + ArcGIS Apps for XR devices. Also, this statement from the current doc doesn't exactly seem correct given the working hierarchy: "ArcGIS Camera must be parented to ArcGIS Map."
Happy to have this working, grateful for the assistance here and via the support channel.
-Cory
CORY EICHER
www.eichcorp.com
cory@eichcorp.com
14 Replies