Mark as New

Bookmark

Subscribe

Mute
I'm a newbie interested in upping my game and looking for advice.

My project:
I have a database of 40 different British television series.

Most series consists of a number of 'seasons'
Each season is made up of episodes (26 on average)
For each episode I have geocoded data on the locations used to film the episode.
So I'm currently looking at a project that contains over 2000 data points.
I would like to create an app which will:
Display all the locations on start-up with pins classed by 'series'
I would like a 'Series' legend which I can toggle to turn display on and off.
I would then like be able to drop down through series/season/episode selections as I go, down to individual location names.
I would like to be able to 'click' on a location and zoom to it - at the same time have the option to reveal all location with a buffer area.
I'm currently at the stage of having three series layers to trial - in one map.

https://arcg.is/095Xq5
I have trialed an Interactive Legend app - and can now see that I need to incorporate all the 'Series' in one fc - which will enable me to filter by series - but I want to be able to filter down to 'season,' then 'episode' and end up with an interactive list of 'points.'
From what I'm reading, it would seem that such functionality has not been added yet.
Is there a work-around to provide this functionality?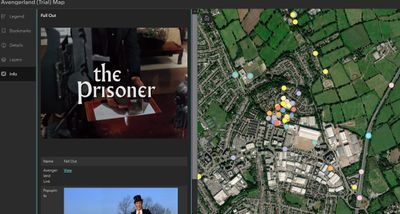 1 Solution
Mark as New

Bookmark

Subscribe

Mute
Problem solved - Use the DASHBOARD creator!

I was persuaded to forget about Web Apps and use the stand-alone Dashboard App.

It took less than half an hour to create functionality I was after - and I feel rather silly about not knowing that this existed.

Great results once I shoved all the series into one layer:

https://www.arcgis.com/apps/dashboards/1dc811b6aa844baa8794bd4fff6837a9







1 Reply
Mark as New

Bookmark

Subscribe

Mute
Problem solved - Use the DASHBOARD creator!

I was persuaded to forget about Web Apps and use the stand-alone Dashboard App.

It took less than half an hour to create functionality I was after - and I feel rather silly about not knowing that this existed.

Great results once I shoved all the series into one layer:

https://www.arcgis.com/apps/dashboards/1dc811b6aa844baa8794bd4fff6837a9