New Contributor
Mark as New

Bookmark

Subscribe

Mute
I had a correctly configured Crowdsource Reporter on my ArcGIS Online account that was working properly. I decided I wanted to delete a field in my Hosted Feature Layer and I was no longer able to submit reports. When I clicked the Submit a Report button the loading icon will spin forever. After an hour of changing the settings of my hosted feature layer, web map and Crowdsource Reporter Application, I was able to get the application working again. Unfortunately I am not sure how I fixed it, and needed to delete a second field from my hosted feature layer. Now I am running into the same issue again.
Can anyone explain what is going on or what exactly fixes this issue? It's similar to the problem described in this thread:
, except I am not receiving an error message. The program just becomes unresponsive, I let it spin like this for 30 minutes but never got an error message.
Thanks, Skye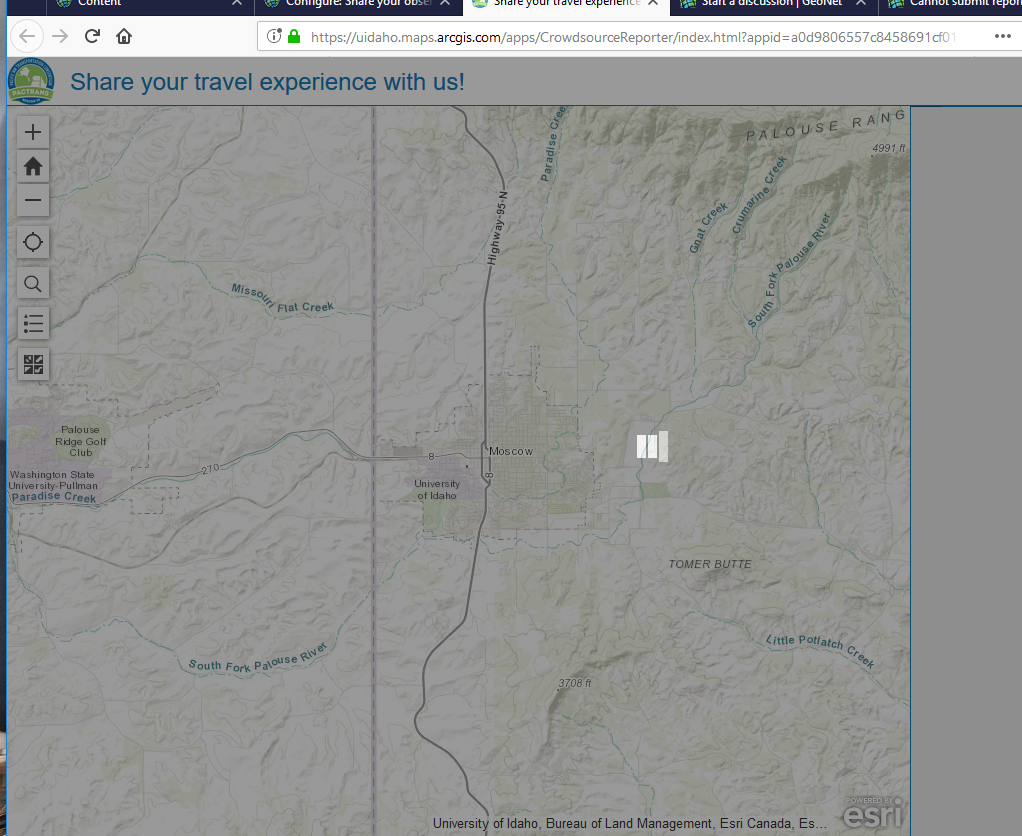 1 Reply

Not applicable
Mark as New

Bookmark

Subscribe

Mute
Posting this in case other folk come across the same/similar issue as I had a hard time finding solutions specific to this issue.
I had a same issue yesterday but from a similar action. I added a new field (date/time) to track submissions. As a result the button to start a report would initiate an endless loading session. It would not show the report form or any change other than the default loading symbol in the middle of the screen. I cannot speak for the potential solution of the original poster, but I found my solution with the following:
I set the App to organize entries by Date/Time, however the field housing the information was not "visible." I changed it in View Definition, ESRI has an easy to follow explanation of view definitions.
Then I went to Configure Pop-up to ensure/change the list of fields visible and include Date/Time. Lastly under the list of visible fields I clicked on Configure Attributes and the check boxes for Date/Time under visible was off, and edit was on. The opposite of what was needed. I changed the attribute for Date/Time Field to be visible and not editable.
I am not sure the exact solution, likely a combination of the above, but the Crowdsource Reporter is accepting new reports.
Best of luck all!
-Danny