Occasional Contributor III
Mark as New

Bookmark

Subscribe

Mute
I am trying to add several Living Atlas live data feed layers into ArcInsights Desktop (latest version) but the first layer i.e., "World Traffic Service" (study area can be seen in the screenshot) fails to load completely (I think the line features are failing to load) as shown in the screenshot below.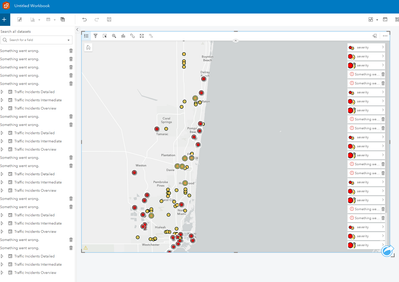 How can I fix this?
Some follow-up questions:
How can I isolate the non-spatial data plots to my study area? Is it possible to filter Living Atlas attributes? I know there are some apps on the ESRI Living Atlas that update the non-spatial plots as you zoom into your study area on the map. Does Insights have this functionality?
Since this is live feed data, will the app plots update on their own as the data on the backend is being updated by ESRI?
1 Reply

Esri Contributor
Mark as New

Bookmark

Subscribe

Mute
Hi @SaadullahBaloch,
Hope all is well! Thanks for your questions.
I cannot answer all of them. However, I believe I can answer your last follow-up question.
Insights creates a new data instance whenever you add data to our workbooks. This way, you can never corrupt, delete, ruin the original dataset in Insights, no matter what you do with your data. It's for user and enterprise data protection, in a sense. 🙂
However, you can schedule data updates. If you do this, you can set a SHARED WORKBOOK to automatically check and update its datasets every hour, day, week, month, year. So doing this, I believe it would check Living Atlas regularly and create new instances.
It will run the same analysis, so your analysis in the shared page should automatically update.
I just quickly reread the documentation on Scheduled Updates, and it doesn't say it won't work with Living Atlas, so I assume it does. Caveat: I've never tried it with a Living Atlas dataset. Also, I will note that if you load a Living Atlas dataset that costs credits over and over, I believe it will cost you every time.
I hope this helps a little bit. I'll ask around as to your other questions. 👍
... Completely random thought on the line features not showing before I sign off...

The lines aren't raster are they? Probably not, as raster lines don't make much sense, but raster data, as you know from an earlier post I recall, doesn't work in Insights. Wonder if that's why the lines aren't showing up.
Thanks, @SaadullahBaloch!
-------------------
Ian Muehlenhaus
Location Analytics