by
AlistairM

Esri Contributor
Mark as New

Bookmark

Subscribe

Mute

Email to a Friend
Hello,
I have an Indoors deployment hosted in ArcGIS Enterprise 10.9.1 and I am having issues with the indoor network. The network builds successfully in Pro 2.9.1 and I have visually verified connectivity. I have also run a number of test "routes" in Pro and they all solve with the expected result (even complex ones between buildings). However, when I publish the network analysis service to Portal and add to the Indoors viewer, I am getting an error generating directions between certain stops (strangely a good portion of the network works just fine, its always the same areas that fail). Many of the stops that fail are very close to each other and the connectivity is definitely there. In dev tools, I can see that the call to the solve endpoint is returning a json geometry and direction points but the app is not having it (you can actually see the directions flash on the panel for a millisecond before the error below):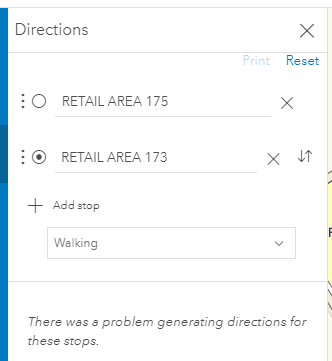 I've tried republishing the NA service, removing it from the app etc. with no luck. My network dataset was created with the template that comes with the Pro installation.
Anyone seen anything similar or have any ideas for troubleshooting?
Thanks in advance!
Alistair
1 Solution

Esri Contributor
Mark as New

Bookmark

Subscribe

Mute

Email to a Friend
Hi Alistair,
The directions not generating between some stops is due to null value in the DESCRIPTION field for some features in the Landmarks feature class. Please update the description and retry the directions in Indoors Viewer. Let me know if it resolves the issue.
Faraz
4 Replies