Mark as New

Mark as Read

Bookmark

Subscribe

Email to a Friend
The latest release of ArcGIS Enterprise, available as of May 2021, introduces a wealth of helpful new features for you to enjoy. Let's take a moment to look at some of the new functionality in ArcGIS Enterprise 10.9 that was requested here in Esri Community, particularly in ArcGIS Ideas.
Home Page Editor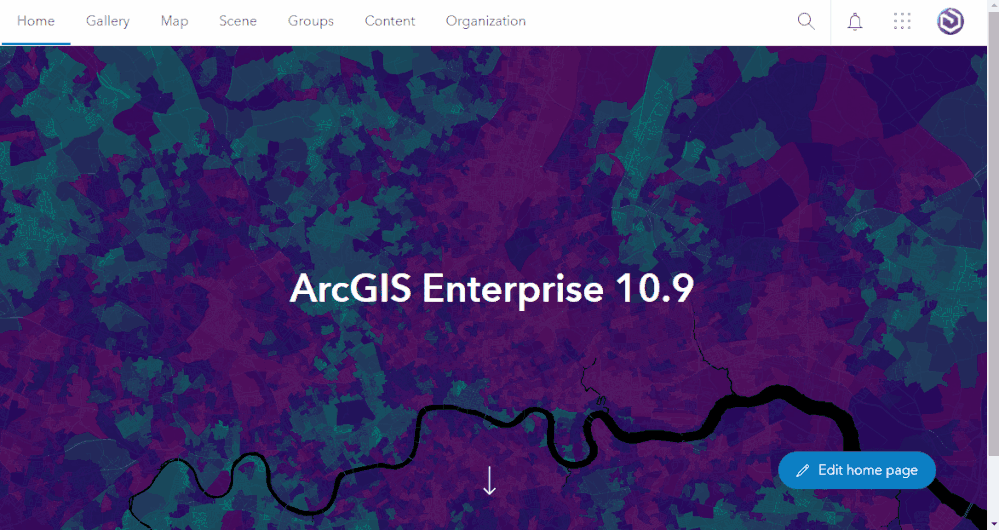 Perhaps the most noticeable new feature in ArcGIS Enterprise 10.9 is the redesigned home page editor, which enables organizations to build a modern and responsive home page, offering more versatility for you and your users to explore. For some inspiration, I recommend checking out this helpful blog which includes more information on the capabilities in the new home page editor.
Idea:
Collaboration
ArcGIS Online's April 2021 update introduced partnered collaboration – collaborations established between two ArcGIS Online organizations. Did you also know that partnered collaboration can be used in tandem with distributed collaboration between ArcGIS Online and ArcGIS Enterprise, unlocking a world of sharing possibilities? This update isn't specific to ArcGIS Enterprise 10.9 either – organizations can now share from one Enterprise organization across to multiple Online organizations by creating a group that is participating in both a distributed & partnered collaboration.
While we're on the topic of distributed collaboration, be sure to also check out the updates to sharing and collaboration in our documentation. In particular, the ability to share edits two-way for copied feature layers is a total game changer! This means that multiple organizations can now contribute edits to their copy of the feature layer and keep updates in sync across systems. It's also something which we've received many requests for, through other channels such as conference conversations and enhancement requests through Esri technical support.
Idea:
Administrative Reports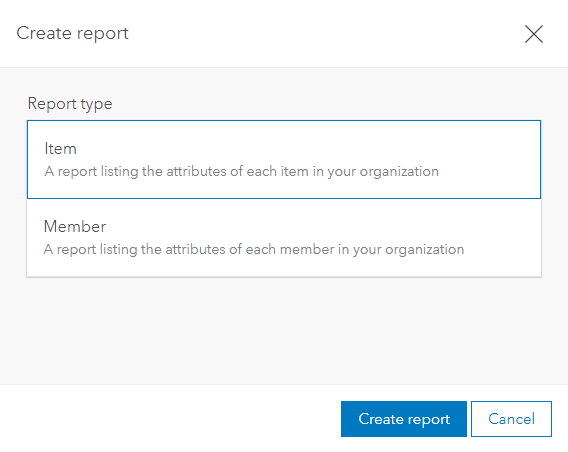 Administrative reports are an exciting new feature for ArcGIS Enterprise administrators that's been requested by many here in Esri Community. If you'd like to learn more details about your organization's members and items, these reports can be a helpful monitoring and management tool. Read more about administrative reports in this blog, or check out the product documentation where we have details about the report fields found in both member and item reports.
Ideas & Posts:
Analysis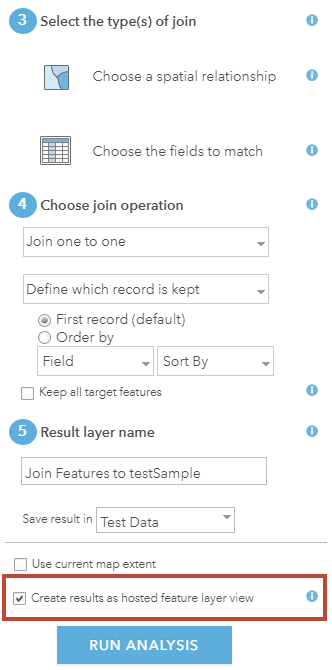 The Join Features standard analysis tool now offers a new option: the ability to create results as a hosted layer view. This update allows the resulting view layer to stay updated as edits are made to the source layers. For more in-depth information about this tool, see our documentation.
Post:
Data Management
When working with editable hosted feature layers, it is now possible to control whether a field is editable or not: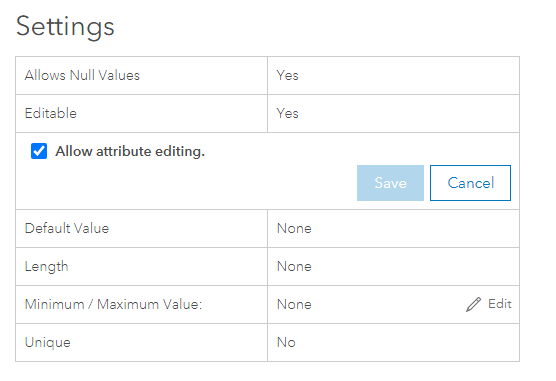 If a field is disabled from editing, then no one will be able to make edits or perform field calculations on this field unless editing is enabled again. This is helpful to protect certain fields from updates, or simply make certain fields read-only in an otherwise editable layer.
Idea:
Multifactor Authentication
New at 10.9, it is possible to enable multifactor authentication for built-in accounts. The screenshot below shows what this option looks like in the Enterprise portal's Organization settings > Security tab: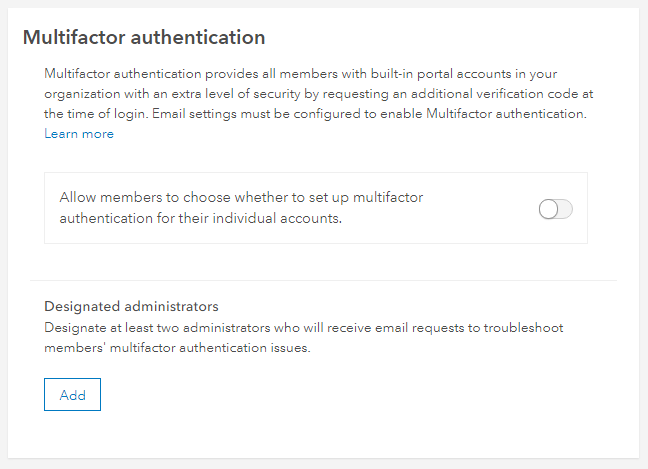 Once enabled, members can choose to set up multifactor authentication for their accounts, providing an extra level of security through supported authentication apps. For some more information about enabling multifactor authentication, see our documentation.
Idea:
OpenID Connect Login Support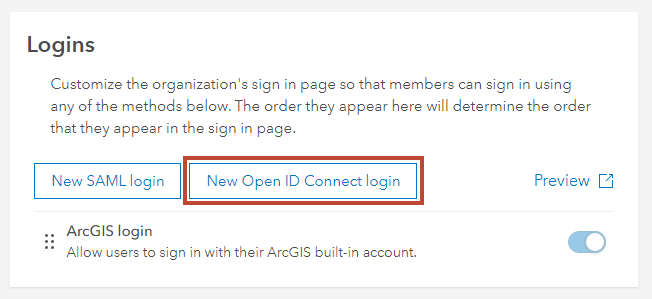 But wait, there's some more updates when it comes to authentication! Beginning at 10.9, ArcGIS Enterprise supports the OpenID Connect authentication protocol, and integrates with IDPs that support OpenID Connect. While this hasn't been directly requested here in ArcGIS Ideas, it's been discussed elsewhere in Esri Community, and is still worth a shout out. Some more documentation can be found here.
Post:
Navigation Bar Visibility
This helpful new feature allows administrators to modify the visibility of pages in the navigation bar and can be configured under Organization Settings > General tab. For example, you can ensure that only organization members who can create scenes are able to see the "Scene" link in the top bar. Read more about it here, and below is a screenshot of the configuration options now available: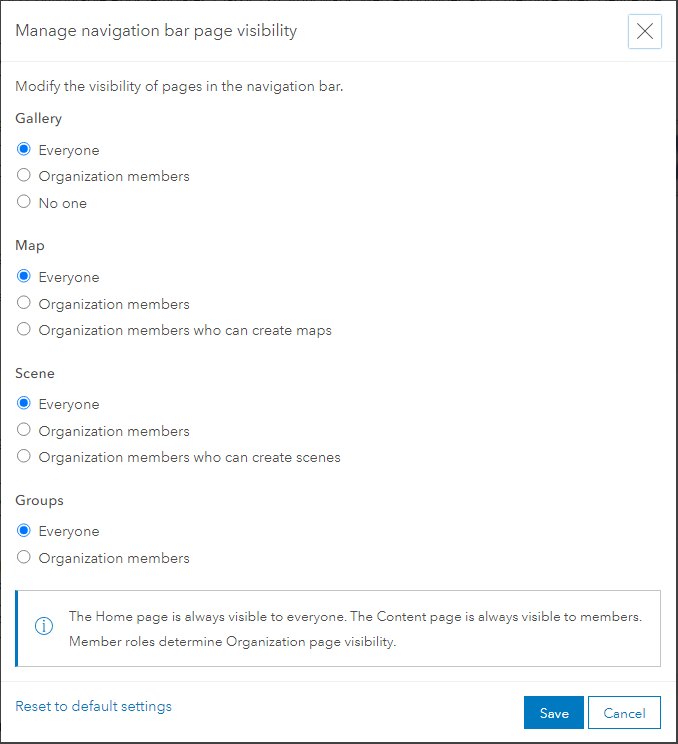 Idea:
Federated Server Aliases
If your ArcGIS Enterprise deployment consists of many federated ArcGIS Server sites, hopefully this update can help. The Enterprise portal's Organization Settings > Servers page now shows a pencil icon next to your federated server sites, which allows you to assign an alias for easier identification.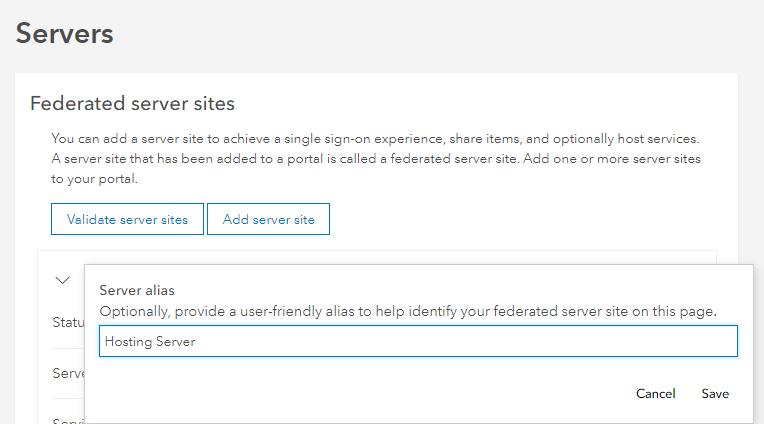 Idea:
Conclusion
And that concludes our round up of ideas in ArcGIS Enterprise 10.9! I hope that sharing this information is insightful for you, and I want to thank everyone for their participation in ArcGIS Enterprise Ideas, and across all the ArcGIS Enterprise boards in Esri Community. We are always listening and want to continue engaging with the great feedback you send us.
To learn more about the new functionality in ArcGIS Enterprise 10.9, we have a great blogs and documentation which outlines the new functionality. Check them out below:
1 Comment
You must be a registered user to add a comment. If you've already registered, sign in. Otherwise, register and sign in.