Occasional Contributor III
Mark as New

Bookmark

Subscribe

Mute
Apart from discussion forums, this is the only documentation on how to set up Open Data sites: Prepare Your Data—ArcGIS Open Data | ArcGIS
I've successfully accomplished everything from "Prepare Your Data" to "Data Report". The next step on this help page, "Design the layout of your open data site" is where my attempts at self-education hit a big stubborn wall. We are wanting to group our data like the MD group has: . http://imap.maryland.opendata.arcgis.com/ I imagine this is possible buy creating an "image widget" with a link to some content on our Open Data "Home Page", but how do I create the actual page where all of the datasets will be listed and previewable, such as this: http://imap.maryland.opendata.arcgis.com/datasets?q=Agriculture ? I tried creating a "data listing" widget, but all I get is this.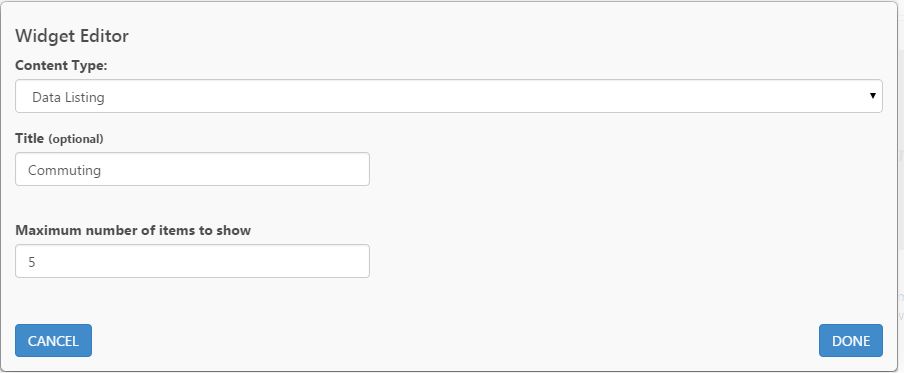 I would like to create a Commuting listing that will provide links to our commuting datasets that we uploaded to ArcGIS.com months ago. When I hit done, all I get is a widget with a endlessly spinning circle: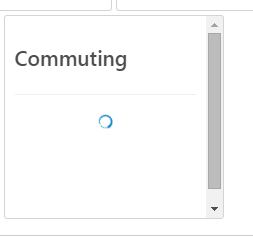 Please not that I have uncovered bug a when trying to create a "dataset map" widget. An ESRI technical support staffer wrote this when he could not help me create a dataset map:
As per our discussion and the observed behaviour, we have logged a bug with ID 000086559 for endlessly spinning wheel while configuring the Open Data homepage for Open Data site. I hope the issue will be taken care of soon.
This makes me think that there's a similar bug with the "dataset listing" widget. But let's say that these bugs didn't exist, is there any documentation about what to do with these widgets? Is there any type of "walk through" that helps Open Data providers create an open data portal like this: Home | the GIS Data Catalog ? Or is there a major functionality outage with the "Design Layout tab" that is preventing me from accessing intuitive tools about how to continue towards configuring my page to make it function like the Maryland page?
Thanks.
1 Solution

Occasional Contributor III
Mark as New

Bookmark

Subscribe

Mute
Further, you will only receive results with datasets tagged "commuting" when using the keyword search as follows:
site.org.opendata.arcgis.com/datasets?keyword=commuting
When using the query search, you'll receive results with datasets that "commuting" in the tag, title, or description:
site.org.opendata.arcgis.com/datasets?q=commuting
Using the ?keyword search will give you more control over what is returned in the results.
7 Replies