Occasional Contributor II
Mark as New

Bookmark

Subscribe

Mute
Our users are using Field Maps on iPhone to input data.
We have an expression that totals the number of complaints.
I want the total number of complaints to be item 3 on the list of the app when they open the app. First image is new map viewer pop up config and 2nd image is classic map viewer pop up config.
My question is what drives the way the list is on the iPhone in the app? For me, it appears classic map viewer does.
Hopefully this makes sense. When I move total complaints to the top of the list in new map viewer it doesn't display as that on the iPhone, it shows it at the bottom. Then I went to classic map viewer and moved it to the top of the list and now it displays at the top on the iPhone. Here's the weird part, then if I open new map viewer back up, in the pop up the total complaints moves back to the bottom of the list. Weird. But at least it doesn't affect the looks of my app.
My concern is I thought the new map viewer took the place of classic map viewer.
So we still have to use both of them depending on what we want or am I doing something wrong? Or is there a bug?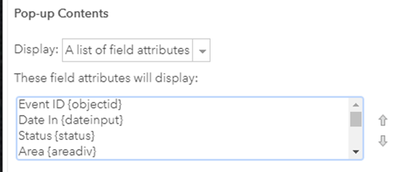 2 Replies

Not applicable
Mark as New

Bookmark

Subscribe

Mute
@AnnettePoole1 Your suspicions are correct. Currently, Field Maps does not fully honor the pop-ups authored in Map Viewer. Map Viewer writes additional information called pop-up elements which are not supported in Field Maps. We do plan to support these newer pop-ups in the future.
There are previous threads on this:

Esri Contributor
Mark as New

Bookmark

Subscribe

Mute