Occasional Contributor
Mark as New

Bookmark

Subscribe

Mute
I finally have my offline map areas working properly, after several versions and over an hour on the phone with Esri tech support. It's been a bit of a nightmare. While I'm happy that we seem to be able to use field maps, I noticed that the attribute fields are in a different order in the offline map area than they are in the attribute table. The order they are now in is not in the direction of flow for our work. Has this happened to anybody else? Any ideas on how to change the order in the offline map area?
1 Solution

by
RhettZufelt

MVP Frequent Contributor
Mark as New

Bookmark

Subscribe

Mute
Guess I'm confused as to what you are refereing to then. "Where" are the attributes in a different order?
If you are not using forms, then I assume you are just using Field maps for a map, and not for data collection.
If so, you must be refereing to the order of the popups. The popup (and form) order can be changed and saved in the map viewer web app.
However, you are talking about domains and drop downs, which seem to suggest you are collecting data with Field Map app. Without a Form, Field Maps app doesn't show any attributes and only lets you collect the geometry of a feature.
Suspect maybe you conveted the popups to a form (default option in Form Config if form doesn't exist) and didn't realize it. Open the map in map viewer (not classic) and click the Form Config button (as in image below) and see what it shows. This is the order of fields when you add/edit a feature with Field Maps app. (Forms will automatically use domains as drop down if it exists on a field.)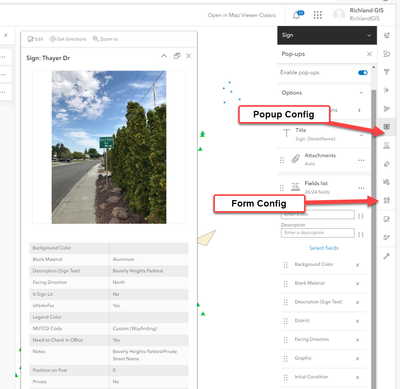 R_
8 Replies