Occasional Contributor III
Mark as New

Bookmark

Subscribe

Mute
I have created an Experience Builder with the intent to have the map on one side and the survey on the other using the Survey123 widget.
This works flawlessly and I love it, however I've run into a problem when I need to add a French version of the Survey. Despite setting the "default_language" in the survey, which changes my labels, the buttons (Next, Back, Submit, Page 1 of 4) do not change to French on default.
I would prefer it just to be French and not require giving the user an option (split surveys), in part due to the fact the language selection menu does not appear properly in the Survey123 widget.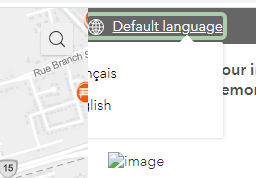 Is there a way through Experience Builder to set the language on the survey? Similar to using the custom URL scheme "lang=fr" or a setting that I'm missing somewhere?
1 Reply

Esri Contributor
Mark as New

Bookmark

Subscribe

Mute
Hi @RobertAnderson3 ,
Sorry for the late response, and thank you for sharing here!
Since the last Survey123 3.12 release, the Survey123 form content will be displayed in the language which has higher priority (URL lang parameter > user profile language > organization profile language > browser language > default language). Then, the survey taker will have the form displayed in their preferred language automatically.
For your survey, even the default language is set to French, if your profile or org, or browser language is set to English, the form content will still be displayed in English. As you mentioned, the URL param lang can be used to force the form displayed in specified language, you can use the embed widget to include the URL param.
I am working on the BUG-000138161 you raised, could you please double check your profile, org, browser language settings and let me know if the web app work as expected or not?
Thanks,
Ruth