Frequent Contributor
Mark as New

Bookmark

Subscribe

Mute
Does anyone have an estimate for when the search widget will be able to return info from a feature layer source in either the map widget popup or maybe the feature info widget? Seems like this is something that is still really needed.
Thanks,
David
3 Replies

by
ShengdiZhang

Esri Contributor
Mark as New

Bookmark

Subscribe

Mute
Hi @DavidColey ,
I don't quite understand your question. Currently, when a search widget is used to search for a feature layer, it actually filters the data so that any widget that uses that data can display that information. If you want to show search results in other widgets, you can disable the Result panel in the search widget settings.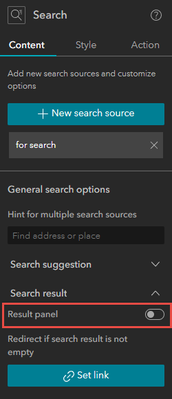 Shengdi

Frequent Contributor
Mark as New

Bookmark

Subscribe

Mute
Thank you for the feedback @ShengdiZhang . Sorry for the late reply on this. Yes, I am able to return the same popup info result into a feature info widget from a feature layer source within the same map. I believe what I was missing was the Search action trigger for 'Data Filtering Changes' so I can zoom and pan to the feature in my map. This works fine for a single-source feature layer and a single feature info widget to hold the results.
Still, I suppose what I am asking is the capability or flexibility for the Search to interact with the webmap popup. In this way, more feature layer sources can be added to the Search without having to define separate Feature Info widgets as containers to hold the popup info results. Much like the current Web Application Builder does now.

Occasional Contributor III
Mark as New

Bookmark

Subscribe

Mute
Agreed. There should be an action like 'Display popup'. In my case, I'm not using the feature info widget.
In WAB, this is default behavior. If I enable feature searching in the webmap, the popup will be displayed for the selected feature. I'd like this capability in ExB, but as an optional configuration rather than default like in WAB.
Thanks