Occasional Contributor III
Mark as New

Bookmark

Subscribe

Mute
I am trying to query a boat ramp database and none of the dropdown menus will populate with the unique values from the field. The layer is loading and the values are visible when I configure the clause in the Expression Builder.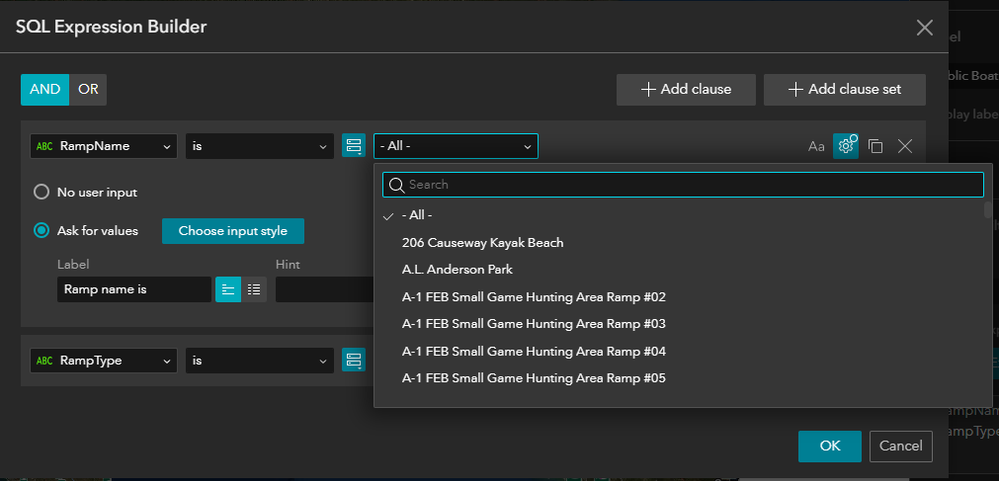 However, when turn on live view, or open the preview and try and select from the menu, the values won't load:
This has been worked just fine until today, so I have no idea what to do. I tried deleting the widget and starting over but got same results. Also, I have two other Query widgets configured with other map layers and I don't have this issue. Also, if I add multiple expressions none of them will populate. It can't be an issue with the data, because it loads in the map: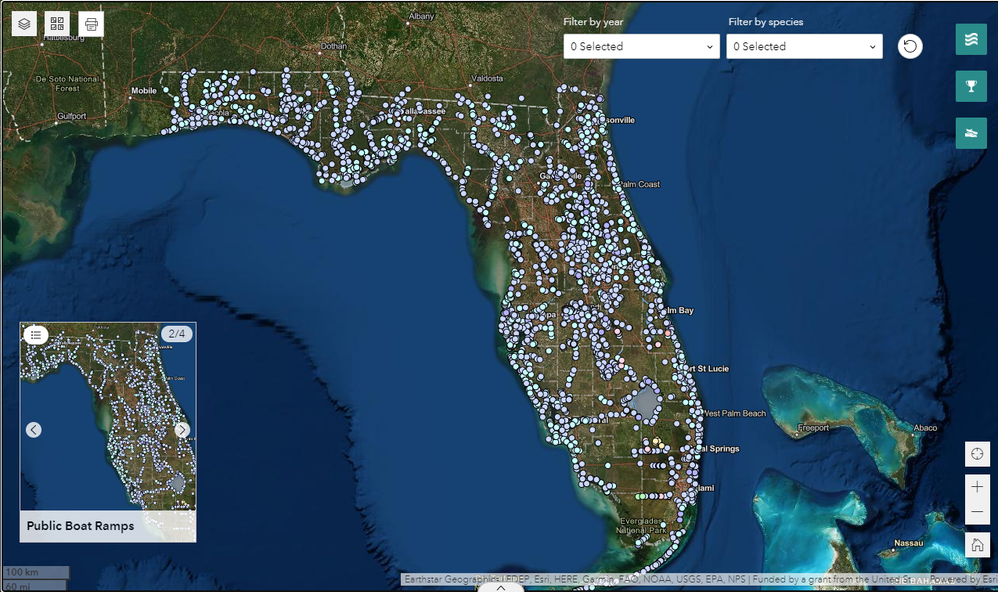 Has anyone else had this issue or may know what is causing it?
1 Solution
Occasional Contributor III
Mark as New

Bookmark

Subscribe

Mute
I wanted to post more info about this issue because I have isolated the cause. This seems to be isolated to the Query widget and occurs whenever there is a map action that filters a map layer and the action applies to the Framework. For some reason, the Query widget is not able to access the filtered records in order to populate the dropdown menu, but I have found a work-around!
As an example, If I wish to create a Filter action for Extent changes, in the Map Action pane I Select 'Add a trigger'/Extent changes/Framework/Filter data records. After selecting the data, in the dropdown I select 'Create a view'. Once the view is created I make sure it is selected in the dropdown under the Action data layer. Now the map will filter the view and not the map layer. Since I only wanted to filter the Attribute table, I can now go to the table Content pane, open the table Data configuration and select the view of the data as opposed to the 'default' setting. Now, only the table will be filtered and the Query widget isn't affected since it is looking at the map layer and not a view and the menu will populate as expected.
I hope this helps for anyone having the same issue.
6 Replies