Not applicable
Mark as New

Bookmark

Subscribe

Mute
I've enabled the basemap tool for a web map widget but our organizations basemaps don't show up as choices. I have a basemap group configured for our organization and other web maps/apps show my custom basemaps without issue. I'm seeing this in 10.8.1 portal but not AGO.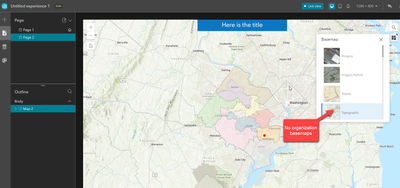 1 Solution

Not applicable
Mark as New

Bookmark

Subscribe

Mute
Just closing the loop, this has been resolved in 10.9 Enterprise
From https://support.esri.com/en/bugs/nimbus/QlVHLTAwMDEzNDE5MQ==
BUG-000134191
Synopsis: In ArcGIS Enterprise, the Basemap widget of ArcGIS Experience Builder does not list the custom basemaps defined in the portal.
Bug Number: BUG-000134191
Submitted: Sep 29, 2020
Modified: Mar 23, 2021
Severity: Medium
Applies To: ArcGIS Enterprise
Version Found: No Version Found
Prog Language: N/A
Server: Windows 10.0 64 Bit
Client: Windows 10.0 64 Bit
Database: N/A
Locale: N/A
Status: Implemented
Version Fixed: 10.9
SP Fixed: N/A
8 Replies