by
David_Brooks

MVP Regular Contributor
Mark as New

Bookmark

Subscribe

Mute

Email to a Friend
3 Replies

by
jcarlson

MVP Notable Contributor
Mark as New

Bookmark

Subscribe

Mute

Email to a Friend
Unless something has changed, the simple answer is "no". There's no way to specify which layers are selectable in either EB or the Map Viewer; if it's visible, it's selectable. I suspect that this is because the select "widget" is currently just an available tool specific to a map, as opposed to a truly separate EB widget, and there's nowhere for those kinds of settings to be stored.
Consider the recent addition of the Search widget. Prior to its addition, a search was only possible within the context of a Map widget, and its settings pulled directly from the map itself. Once a standalone widget was released, it became possible to configure it separately from any other maps.
Perhaps someone on the development team can elaborate on this, but I would expect (and hope) that a true Select widget is on the roadmap somewhere. If EB is really going to have WAB parity, I can only assume that it's simply a matter of time before we see an equivalent option in EB.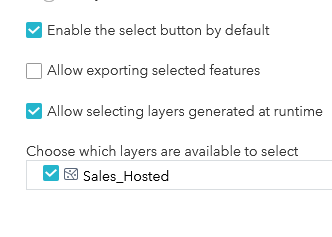 - Josh Carlson
Kendall County GIS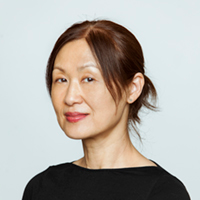 by
Jianxia

Esri Regular Contributor
Mark as New

Bookmark

Subscribe

Mute

Email to a Friend
Josh, you are right. We haven't had resources to enhance the Select tool on the map yet. Tools on the map is simply a quick way to get the basic functions in. They do not have as many options as the standalone widgets.
@David_Brooks could you help submit an enhancement?
Thanks,

by
David_Brooks

MVP Regular Contributor
Mark as New

Bookmark

Subscribe

Mute

Email to a Friend