Occasional Contributor
Mark as New

Bookmark

Subscribe

Mute
I am using a table widget with related tables in Experience Builder to provide an interactive map/table experience. I'm finding that only the Table Widget actions are working well and as expected. Map Widget actions set to filter the Framework are not being honored by the Table Widget, however.
This may be support ticket-worthy, but just in case others have run into unexpected behavior using filter actions between a map & table widget, here are the details of what I'm finding.
Table actions to filter the other tables & map (Working well):
Selecting a record on the Genetic Baseline Samples table triggers a filter action on the tissue summary and bulk totals table using a common field (this is all working).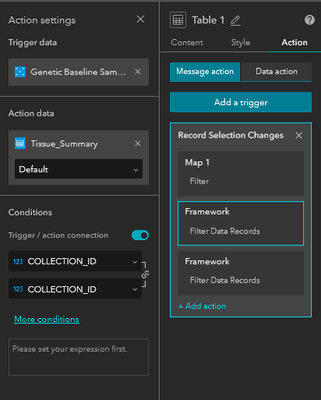 Map actions to filter the tables via filtering the framework (being ignored by the Table Widget):
Selecting a point in the map triggers a selection of the table record (works when you click show selected), but should also trigger a framework filter to filter the table for those points as well as the other two tables (this latter trigger isn't working).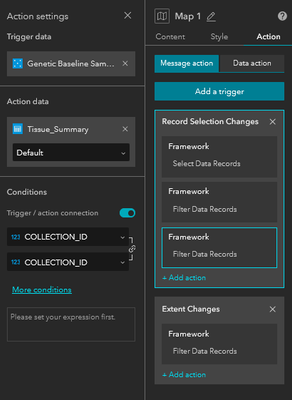 Here's a video of what's happening with these settings. Table actions are working as expected. Again, map actions are set to filter the framework, and should be triggering all three tables to be filtered to the selected recording via a common field. It's almost as if the Table Widget isn't part of the framework.
0 Replies