New Contributor III
Mark as New

Bookmark

Subscribe

Mute
Having a few problems with the new printing widget in Experience Builder.
1. Co-ordinate Transformation Error
I have included the printer widget in my webapp and want to give my users the option of printing whether using ESRI's basemaps such as the World Imagery, or for the Ordnance Survey basemaps. I've had difficulty printing to either the World Imagery or GB Cartographic when using different default output spatial references with either WKID 3857 (WGS 1984 Web Mercator auxiliary sphere) or WKID 27700 (OSGB). My datasets can translate to either WGS1984 or OSGB within the webapp, but not on print, so currently I have two printing widgets, one for ESRI using WKID 3857 and one for OS using WKID 27700. As my end users won't fully understand about the two different co-ordinate systems, I'm worried that they may use the incorrect printing widget for whichever basemap and then start showing information in the wrong place. Is there anyway to work at this properly, rather than my work around of having two printing widgets? Any recommendations would be highly appreciated!
2. PDF Font Error
I'm encountering a problem with the PDF/Font after print. On some PDFs, the text is appearing as normal, however on some PDFs the text has altered and doesn't look evenly spaced out correctly. This further causes a problem on saving the PDF and on opening in Adobe Acrobat, the error appears of "Cannot find or create the font 'ArialUnicodeMS'. Some characters may not display or print correctly". On going past this error in Acrobat, then all text displays as POINTS.
In the Font properties of the incorrectly displaying PDF it reads.
ArialUnicodeMS Type: TrueType(CID) Encoding: Identity-H Actual Font: Unknown
In the Font properties of the correctly displaying PDF it reads.
ArialUnicodeMs (Embedded Subset) Type: TrueType(CID) Encoding: Identity-H
3. Legend displaying
The legend does not display for me in experience builder at all.
In WebAppBuilder, it is displaying for me.
1 Solution

by
ShengdiZhang

Esri Contributor
Mark as New

Bookmark

Subscribe

Mute
Hi @MatAzzopardiRWE ,
1. If you enable the Override common settings, you can use different output spatial references for different print templates in one print widget.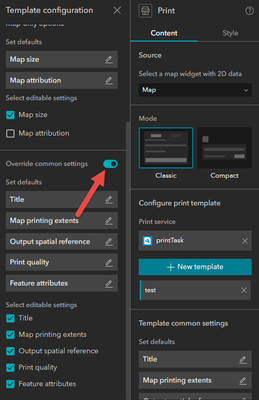 2. This is a known issue of the print service. https://support.esri.com/en/bugs/nimbus/QlVHLTAwMDE1MDgwOQ==
3. Do you have grouped layers in your map data?
Regards,
Shengdi
6 Replies