New Contributor II
Mark as New

Bookmark

Subscribe

Mute
Hello,
I've just started to have an odd issue with an app I'm building on AGOL's Experience Builder. By 'started' I mean it was working fine last week when I demo'ed it to the client but now it doesn't work anymore.
I have a filter that should allow a user to pick a specific attribute value so they can see only the applicable features in an overlay layer.
My problem is the list of unique values is no longer populating properly on desktop - the pull-down menu shows only one or two values instead of the full list of twenty or thirty it should be showing.
See the screenshot below.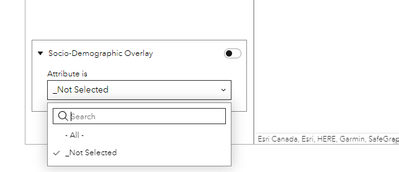 The funny thing is, if I turn on Developer Tools in the Chrome Browser I'm working on (I thought maybe something had broken in the back end), the list then shows all the proper values!

The filter also works properly on the mobile version I'm developing of the same app.
Does anyone know what's going on and what a solution/workaround might be? To recap: this is on a Chrome browser, using AGOL's Experience Builder.
Any help or insight would be much appreciated. Thank you!
11 Replies