Frequent Contributor
Mark as New

Bookmark

Subscribe

Mute
Hi - does anyone know why a source layer selected from your experience builder developer 1.5 edition map would not be available to the query widget, when the same layer is available to the layer list widget?

I have an source webmap built from/in map viewer beta on in our 10.9 portal.

The layers and webmap are all public.

The layers are all available to the layer list widget, and so when I deploy the app to my webserver, I do see all the layers.

BUT, a Street layer for Query Widget, selected from the map as the data source, is NOT available to the query widget. I get a whole host of jimu errors when I open the query widget: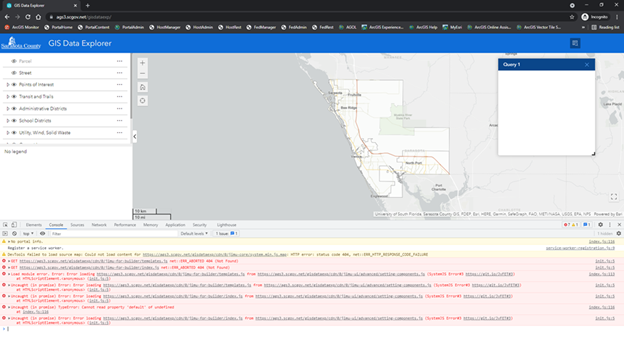 This could not be a more simple deployment. I'm just trying to get some simple things resolved before trying to add in custom widgets and code. It shouldn't even require a client id because everything is public.
@DavidMartinez perhaps you have seen this??
1 Solution

New Contributor III
Mark as New

Bookmark

Subscribe

Mute
@DavidColey The jimu-for-builder package is not included in the download package, this bug will be fixed in next release. To workaround this bug, can you try to copy this package from client/dist folder to your deployment folder to give it a try?
10 Replies