Not applicable
Mark as New

Bookmark

Subscribe

Mute
Was really cool to see some of the new features in Experience Builder today. I'm looking forward to adding them to our existing experiences.
I did notice a few issues that I'd like to raise:
- If you have an existing Experience Builder, the update has altered some of the formatting and size of existing widgets. For example, we had an embedded content that filled an entire scrolling page, and the widget shrunk to only fill a small section of the screen. It wasn't until my client pointed it out that I noticed Experience Builder had actually been updated...so that wasn't very fun this morning! But I realise with new releases, these kind of things will happen.
- For connecting data to text widgets, the pop-up to configure the data & choose the field is stuck on the right side of the text box, which makes it impossible to configure if your text box fills the whole screen:

- One of the biggest issues I'm having is with a List action. I have a list on page 1 (Addresses), and another list on page 2 (Names of Workers). The selection from list 1 should filter list 2 (i.e. Based on the address, you can only select specific people from the next list). It works in live mode. It doesn't do this at all in preview mode or when it's published. This is a huge issue because it DID work when I was using it earlier this week, before the update. We can't continue our development with our project unless this is fixed. I would like to note that it does work if both lists are on the same page. However that's not the experience we are trying to create

- Another huge issue I'm experiencing is that in the Text widget, I can't create a hyperlink from an attribute. I have an attribute with a URL and I need to access that specific URL based on the items selected previously. This also worked earlier this week, but for some reason there is no pop-up to configure the hyperlink.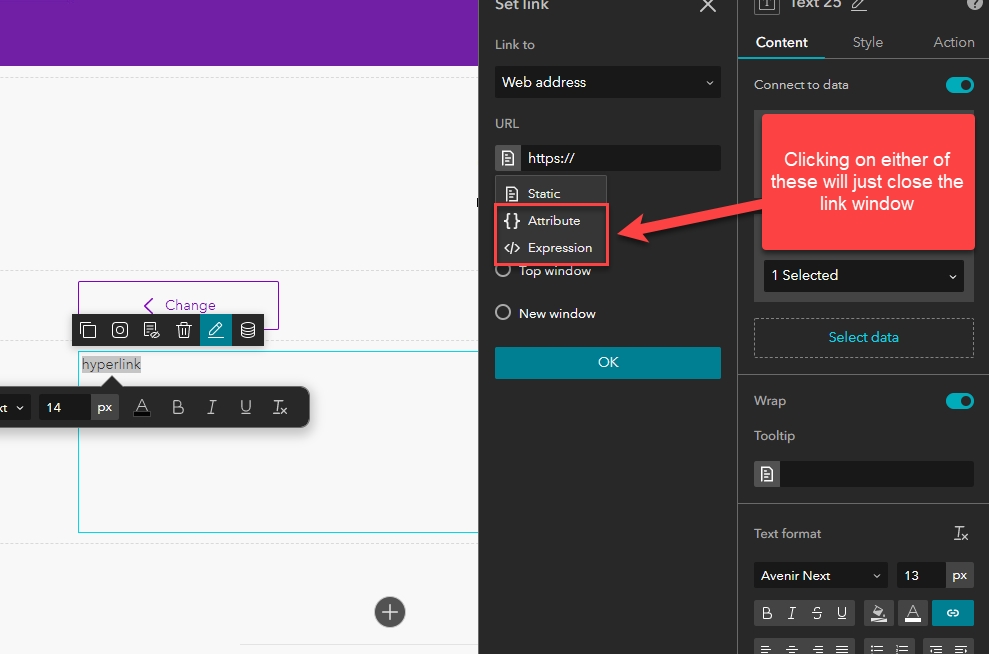 Overall I am super excited for the updates, however it's not very encouraging that our existing experiences needed to be altered/no longer work with the updates.
1 Solution

by
DanJiang

Esri Contributor
Mark as New

Bookmark

Subscribe

Mute
Hi Karen,
Thanks for providing us with the sample app and we are glad to tell that the action issue is fixed with today's patch. We do have a fix related to layout today and hopefully will fix your app as well.
15 Replies