by
AlixVezina

Esri Regular Contributor
Mark as New

Mark as Read

Bookmark

Subscribe
A new web tool for the administration of branch versions is now available with the latest update of ArcGIS Experience Builder.
If you're involved with multiuser editing scenarios, then you may also be familiar with Branch Versioning.
In short, Branch Versioning allows for multiuser editing that leverages a services-based architecture instead of depending on a database connection. Editing and version administration are all performed through a service published to your ArcGIS Enterprise Portal environment.
To learn more about Branch Versioning, I recommend reading Peter Forister's blog, To Branch or Not to Branch.
Today, we're not limited to just accessing data from our local desktops. We've gone remote and mobile, and need to access information from anywhere, at a moment's notice. The way we interact with our data is changing significantly. Being able to view and manage the different versions of your data from any device, in any browser, aligns with today's needs and processes.

With the Branch Version Management widget in ArcGIS Experience Builder, you can now take advantage of the version management service capability in a web application.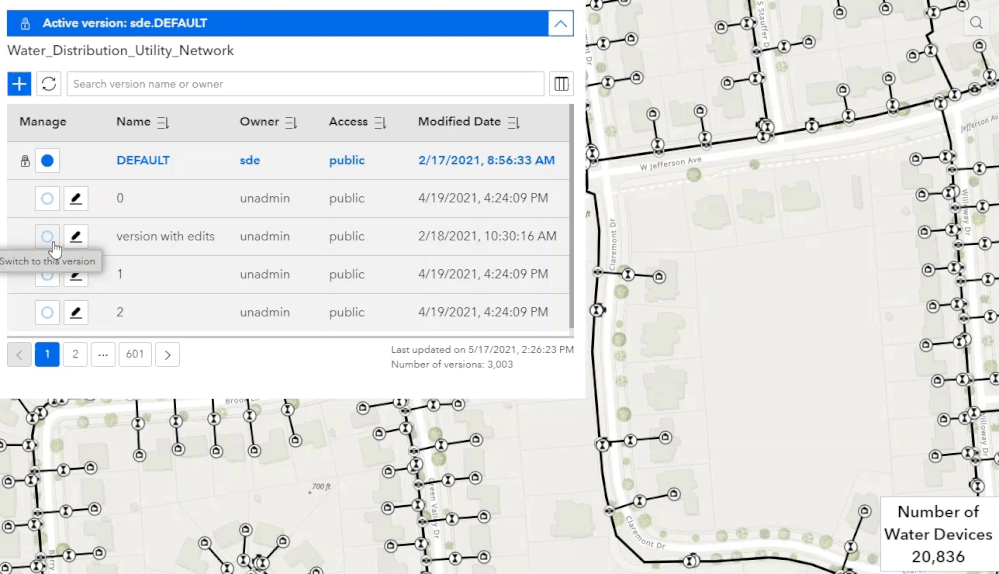 With this widget, you are able to:
Switch between different versions of your data;
View and change version information;
Create and delete versions, and update the version owner.
You are not able to:
Edit the data in a version;
Reconcile and post edits to the default version;
Manage branch version conflicts;
Preview historical moments of your data;
Preview and compare differences in the data between versions.
The version changes made in this widget affect data across your application, so other widgets that use the same services as a data source will also display the corresponding versions.
This widget only supports branch versioned services hosted in ArcGIS Enterprise. You can add a service as a data source by providing the service REST endpoint (URL) directly in the builder. You can also add an item to your ArcGIS Online organization that references the service and use the item from your organization when adding data to your app.
To learn more, check out this video:
You must be a registered user to add a comment. If you've already registered, sign in. Otherwise, register and sign in.