Occasional Contributor III
Mark as New

Bookmark

Subscribe

Mute
Hi,
We have a working map service with tile cache.
The "View Cache Status..." gets the following window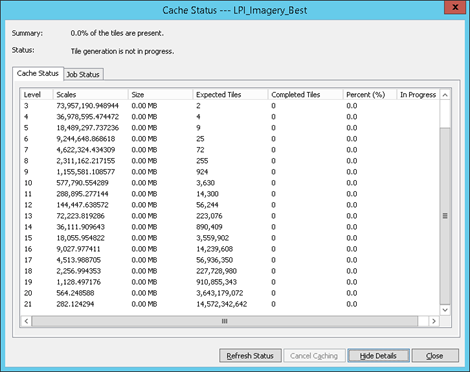 Why completed Tiles are zero on a map service with cache?
The version is 10.3
Any help would be greatly appreciated.
1 Solution

MVP Esteemed Contributor
Mark as New

Bookmark

Subscribe

Mute
There are several threads and I have also seen some strange tile Cache Status, but seldom one that is all zeros when a cache is present. The service obviously knows that caching is checked, or this status check would probably give an error, I would think.
What does the "Job Status" tab report? Does it see any services currently running? does it show any that are completed?
Did you by any chance transfer/copy the cache from a different version (I.e. 10.2?) and if so, can you double check that the tiles are in the correct directory? Sometimes the paths change slightly between versions. ( Also, I know the compact version between 10.2 and 10.5 are not compatible ... I know you are using 10.3, but just mentioning for future)
i would suggest deletling (or moving) the Status.gdb for the cache folder and rerunning the command to query/recreated it. 1) it should recreated it and give a fresh view, and 2) if it doesn't recreate it, as mentioned above, check that the expected path is actually the one the system is writing to.
4 Replies