Occasional Contributor
Mark as New

Bookmark

Subscribe

Mute
Hello. We are a small, conservation non-profit with a single-machine 1071 enterprse configuration. In addition to the enterprise server, we have a web server and a dedicated data server that participate in the system. This configuration is our second run at an optimized design for our geospatial needs. We do not have an extensive amount of content in our system, we have a few web apps, less than 30 services (map image and hosted feature), and all our data is currently vector-based from FGDBs. Our webgisdr backup file is just a bit over 7GB. See included diagram below.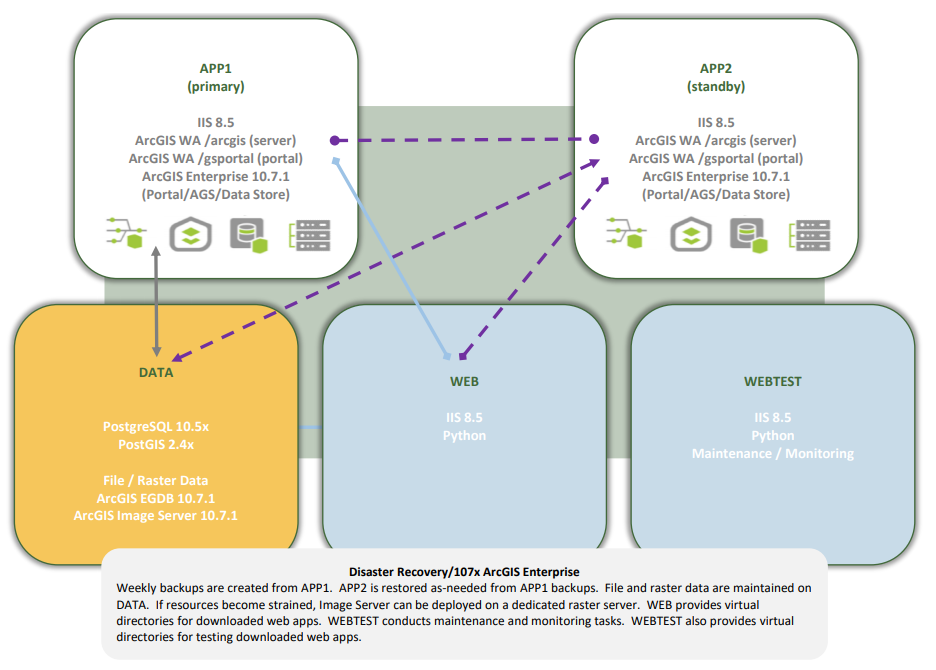 We are trying to implement a disaster recovery mitigation strategy using the webgisdr utility to replicate our primary enterprise server to a secondary enterprise server. We have followed the instructions outlined in these two resources:
+ https://www.esri.com/arcgis-blog/products/arcgis-enterprise/administration/migrate-to-a-new-machine-...
+ https://enterprise.arcgis.com/en/portal/latest/administer/windows/overview-disaster-recovery-replica...
We want to automate the backup and restore, but so far, we have not yet been able to get consistent results with restoring to the secondary server. The restore takes over 9 hours using a local copy of the backup file and does not result in the secondary server's Portal being in a working state. We are hesitant to add a great deal more content or upgrade the system to include an imageserver until we know we can consistently backup and restore our environment.
We are curious to hear what others are doing to backup, restore and test their enterprise systems? Is anyone using built-in VM tools such as replication to accomplish the task?
Thanks in advance for any responses. Best, Dixie.
4 Replies