Not applicable
Mark as New

Bookmark

Subscribe

Mute
I'm trying to use System Log Parser 0.12.8.0 to analyze a local filesystem copy of logs from my ArcGIS Server. ArcGIS Server is on 10.8.1 on Linux, and I'm running System Log Parser on Windows 10.
The entire directory structure of the logs directory was copied to my local hard drive. When I point SLP at the log.info file it starts parsing but after 20kb parsed this error occurs: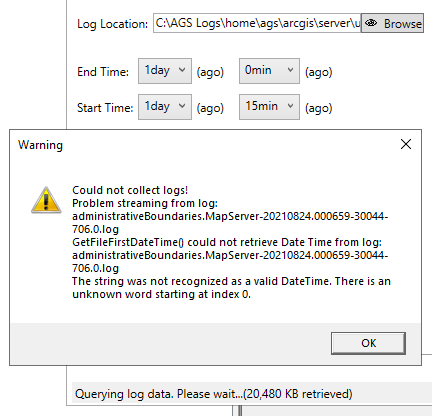 As far as I can tell the log file appears to be a normally-formatted xml file that I can read directly in Notepad on Windows. I don't see any obvious problems with the log file itself. The time period for the query doesn't seem to make a difference.
Could the error come from copying the logs directly from a Linux install of ArcGIS Server to a Windows filesystem?
6 Replies