by
DiegoLlamas

Esri Contributor
Mark as New

Bookmark

Subscribe

Mute
Hello,
we have an HA environment that was doing correctly the webgisdr backup fine until last 4/10/2020, after that we have not been able to run it manually from task scheduler or from command prompt it just stays "starting webgis DR utility" and nothing else happens

we have 2 portal, 2 web servers, 2 load balancer, 2 servers and 2 data stores. 1 shared server 10.7.1 Enterprise VM Servers
In the log file we notice that is trying to run the utility but it can not pass from there

the webgisdr was configured at the shared server (portal and server conf files) and it is run from there by the task scheduler but we are not able to re run it. we were trying to run it manually so we could have the latest backup so we could install some security patches to server but since then we have not been able get it done.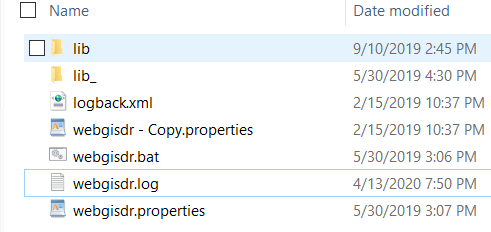 Any idea?
REgards,
Diego Llamas
2 Replies

Esri Notable Contributor
Mark as New

Bookmark

Subscribe

Mute
You can increase the logging in the logback.xml file. You can set all log levels to DEBUG and then run the process again to see what it's hanging on. Another challenge people run into is getting into QuickEdit mode within the command prompt, which will pause any running process. that doesn't seem like the case for you though.

by
DiegoLlamas

Esri Contributor
Mark as New

Bookmark

Subscribe

Mute
Hello,
I set the log level in Debug and I gave me a lot of information but I cannot see any error can I send you the log file, may be you can help me identify the error?
Thanks,
DLL