Occasional Contributor II
Mark as New

Bookmark

Subscribe

Mute
Hi all! My question seems like something that could be resolved pretty easily, but I cannot figure it out. I have a Web Map with the World Dark Gray Base Basemap, and I added the Human Geography Dark Label as the Reference Layer as part of the Basemap because I really like the font. I didn't realize that the World Dark Gray Base Basemap already had labels until I zoomed in, which clash with the labels of the Reference Layer. I don't want the labels from the Basemap, is there anyway to remove them so I just have the Reference Layer's labels? 🤔
The Red circled labels are the ones I want - the Blue circled labels are the ones I'm trying to get rid of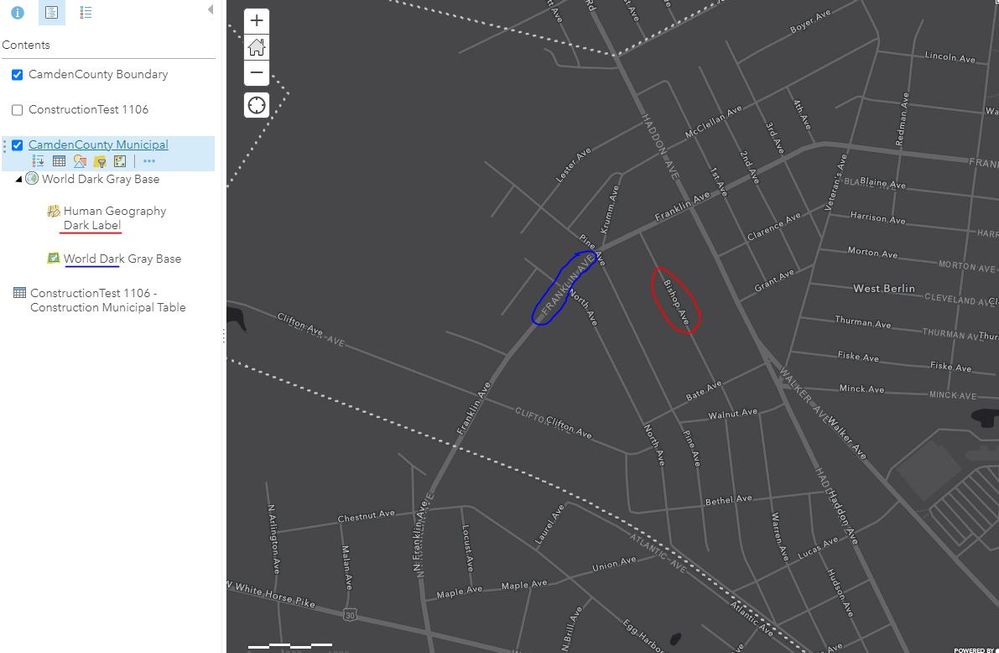 Red are the labels that I want
1 Solution
Mark as New

Bookmark

Subscribe

Mute
3 Replies
Mark as New

Bookmark

Subscribe

Mute

Occasional Contributor II
Mark as New

Bookmark

Subscribe

Mute
Thank you so much Mark! I tried to look for a similar basemap, but did not see the Dark Gray Canvas originally. This helps. I also did not know about the Vector Tile Style Editor, this is great!

Esteemed Contributor
Mark as New

Bookmark

Subscribe

Mute
After you have created your own custom styles for the default ESRI vector tile services, how do you actually use these modified vector tile services in your web apps? Is there a way to make your custom style the default style for all new web apps that you create?