by
simoxu

MVP Regular Contributor
Mark as New

Bookmark

Subscribe

Mute
I applied a geometry filter in the query to a ArcGIS Server Map Service (query enabled), when the ResultOffset is set to 0 and resultRecordCount is set to 500, it only returns 36 records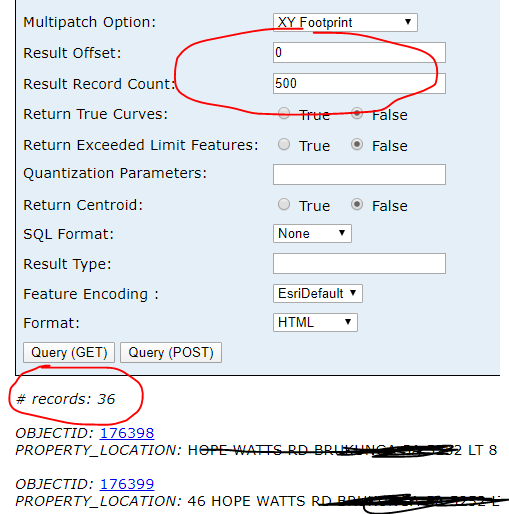 If I remove these parameters in the query, it returns all the features intersects with the geometry: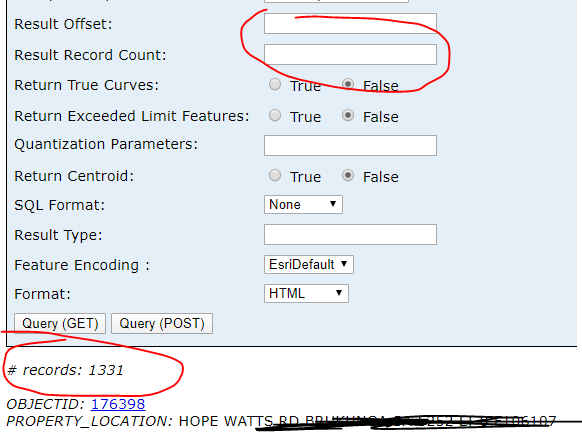 This only happens to the ArcGIS Server Service, if the service is hosted in the ArcGIS Enterprise Portal, it works OK.
Any idea what's happening?
Thanks you in advance.
please note that I posted the same question in the ArcGIS REST API Community a couple of days ago, but I am thinking it might also be a ArcGIS Server topic, as this happens on a ArcGIS Server Map/ Feature Service, but it works fine for a hosted service (I know the service is hosted on a federated server...), I am wondering it might have something to do with my ArcGIS Server settings. if it is true.
1 Solution

by
TanuHoque

Esri Regular Contributor
Mark as New

Bookmark

Subscribe

Mute
Hi Simo,
That is expected behavior.
In short, it is due to how spatial filters are handled in ArcGIS Enterprise Map and Feature Services. The long story is complicated, and I don't think I'd be able to explain this very clearly here without making you more confused.
You should check for 'exceedTransferLimit' flag. This is what we have in REST API help.
The exceededTransferLimit property is now included in the JSON response when paging through a query result with the resultOffset and resultRecordCount parameters. When exceededTransferLimit is true, it indicates there are more query results and you can continue to page through the results. When exceededTransferLimit is false, it indicates that you have reached the end of the query results.
Hope this helps.
Tanu
7 Replies