New Contributor III
Mark as New

Bookmark

Subscribe

Mute
Hi All,
We are currently in the process of ramping up our ArcGIS Enterprise 10.8.1 install on our Ubuntu 18.04.5 LTS linux server.
I am just starting to see these types of errors in the ArcGIS Server log files

despite the hard and soft nofile limits set to 1048576 in the /etc/security/limits.conf file.
https://enterprise.arcgis.com/en/system-requirements/latest/linux/arcgis-server-system-requirements....
The user running the ArcGIS Server process is the same as the user name listed in the limits.conf file and the values looked to have been set correctly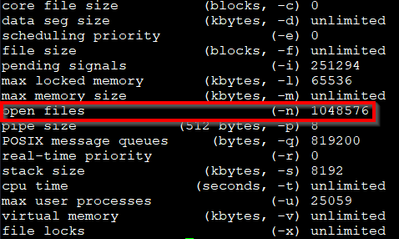 Anyone know of any reason why ArcGIS Server wouldn't be honouring the increased set value?
Regards
Steve Bowden
1 Solution

Esri Contributor
Mark as New

Bookmark

Subscribe

Mute
From what I've been reading, SystemD imposes it's own file and process limits based on the information in system.conf and user.conf in /etc/systemd/. I haven't been able to track down the defaults, but running 'systemctl show -p DefaultLimitNOFILE' returned a value of 4096, which is consistent with your testing.
Increasing the value in the ArcGIS Server unit file should increase the threshold for the running service (as long as there is not a lower value set under the system limit), so hopefully even under increased load you should no longer see the warnings in the ArcGIS Server logs.

-- Chris Pawlyszyn
9 Replies