Occasional Contributor III
Mark as New

Bookmark

Subscribe

Mute
All,
I was wondering if anyone else has experienced an issue when trying to publish a map service where once the process reaches level 18 and 19 it seems to slow way day? I'm talking almost to the point where it seems the process has stalled.
here is a screenshot of the cache status, which it has been stuck at this point for almost a full 12hrs...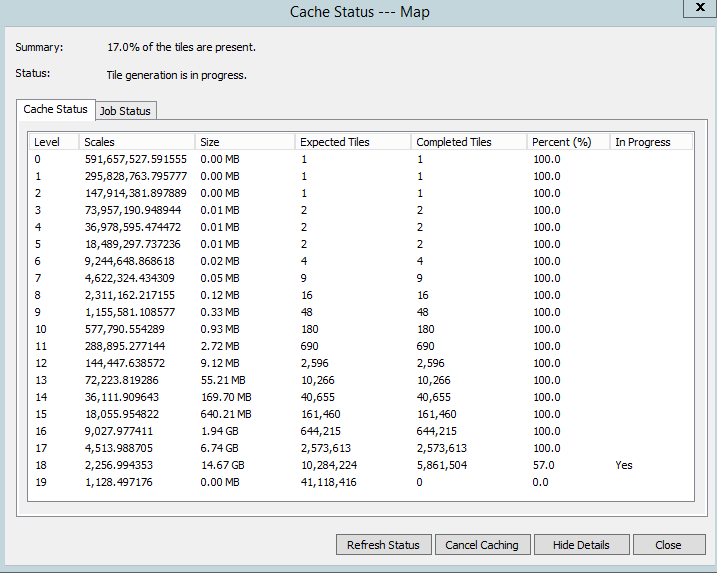 Desktop Version: 10.5.1
Server Version: 10.5.1
Cores: 8
Ram: 12gb
Windows: Server 2012 R2
I haven't seen any errors being logged anywhere, it just seems to almost give up when it reaches this point.
thanks
dave
1 Solution

Occasional Contributor III
Mark as New

Bookmark

Subscribe

Mute
All,
i found the issue with the caching slowdown...
somehow the spatial index got out of sort and needed to be added. i would zoom in arcmap to levels where our addresses and roads turn on and noticed that the roads took a very long time to show and label. so i added the spatial index and that fixed the delay in display and then attempted to start the cache process back up again and it moved along much faster!
thanks everyone for their input on the matter.
Dave
8 Replies