by
Dong-heeKim

Esri Contributor
Mark as New

Bookmark

Subscribe

Mute

Email to a Friend
Occurs when you click 'Configure server role' after going to Organization > Settings > Server path in the portal. Additionally, the create feature layer and tile layer buttons in the content tab have also disappeared.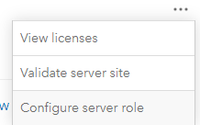 It's already in Technical document, but I can't solve the problem.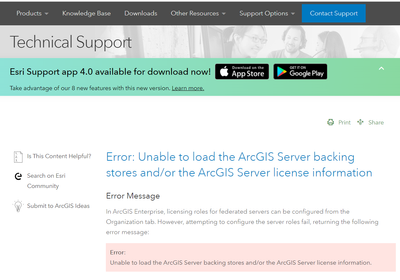 https://support.esri.com/en/technical-article/000025762
In the case of the above document, it says that it is applicable to version 10.9, and it seems that some of it occurs when version 10.9 is updated. I upgraded 3 Enterprises to version 10.9, and I got this error in two places.
Is there any other solutions?
I have successfully authenticated SSL sertification to Portal, Server, and dataStore, am I missing something?
When I configure ArcGIS Server with an CA-signed certificate, I refer to the following document.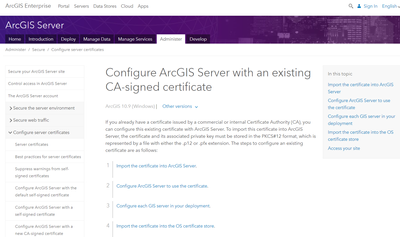 https://enterprise.arcgis.com/en/server/latest/administer/windows/configuring-https-using-an-existin...
3 Replies

Esri Contributor
Mark as New

Bookmark

Subscribe

Mute

Email to a Friend
If an SSL certificate chain trust issue is still present, you would typically see an entry in the Portal warning-level logs that a PKIX path-building error occurred, the certificate expired, or a CN/SAN mismatch was present. The Portal needs to trust the certificates presented by the Admin URL of the federated Server site(s) to query that information, so that's a good place to start. Another possibility is that the host in the Admin URL is not in the 'allowedProxyHosts' if those are locked-down in your Portal's security config (located in the Portal Admin endpoint).
Support should be able to help you identify the issue if you're able to submit a case.

New Contributor II
Mark as New

Bookmark

Subscribe

Mute

Email to a Friend
Thanks for replying. I did "allowedProxyHosts", but I think I need to find out more about the locked-down state. I'll try the former you mentioned. Also, I explore the CN/SAN mismatch condition mentioned earlier. Thanks for your help :)

Esri Contributor
Mark as New

Bookmark

Subscribe

Mute

Email to a Friend