New Contributor III
Mark as New

Bookmark

Subscribe

Mute
Hello all, this is my first question in GeoNet.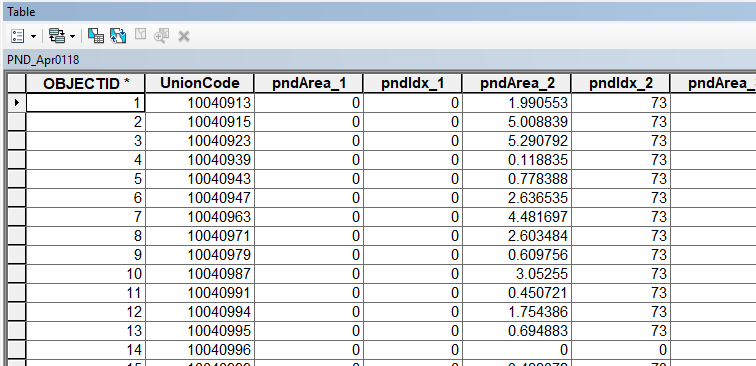 I want to create a web map inside our ArcGIS Enterprise. This map will contain the following features,
the map has an administrative layer with about 5000 polygons, each with a unique ID (UnionCode)
there is a 'pest status' table (see pic) for each administrative polygon with the same unique ID

(UnionCode)

. These tables (ie. PND_Apr0118) are created every day and stored inside a geodatabase
there are about 11 pest indices (pndIdx_1,

pndIdx_2, ...

) and their respective area coverage percentage (pndArea_1,

pndArea_2, ...

) stored inside each table. At the end, there is a column storing the date of the data and the date of the table creation.

pndIdx_1

= Yellow Stem Borer,

pndIdx_2

= Brown planthopper etc (this could also be 11 separate timeseries map, or one map with 11 toggle-able layers)
the web map will update a choropleth map using these table everyday. There will be a popup for each polygon describing numbers
since this is a timeseries map, the 'timeseries widget' will also update according to the recent entry. The map symbols and popup descriptions will update based on the pointer of this widget
What are the best options for this. The ArcGIS Enterprise has both Server and Portal 10.6 in separate machines, federated and hosting server defined with limited resources. arcgisenterprise dynamic table
1 Solution

by
TanuHoque

Esri Regular Contributor
Mark as New

Bookmark

Subscribe

Mute
Thanks Sunbeam Rahman‌.
since your answer to #3 is yes, I'd say add new daily forecast data to 'pest status' table (instead of adding them in newly created tables). Depending on how far in the past you want your users to go back in time, you can periodically remove older records from that table to keep the size of the table manageable. If you have both 'UnionCode' and the date-time fields indexed, pulling 5000+ records from a table and joining them to another shouldn't be a big issue for an enterprise database these days.
pls read the following help topic:
Temporal data in separate tables—Help | ArcGIS for Desktop
since your table gets updated daily, pls read this help as well: Calculating the time extent of your data—Help | ArcGIS for Desktop
pls let me know if you have any question.
6 Replies