by
DarrenWiens2

MVP Honored Contributor
Mark as New

Bookmark

Subscribe

Mute
I am attempting to publish an image service from mosaic dataset but some rasters/overviews appear as checkerboard when published within a folder.
Details:
- server AMI: Esri ArcGIS Enterprise 10.8 on Ubuntu
- image service is created from a mosaic dataset, which includes several individual mosaic datasets (created like in Multiple Mosaic Dataset Configuration here: Time in a mosaic dataset—Help | ArcGIS for Desktop )
- all rasters/overviews appear as normal when image service is in root server folder
- all mosaic dataset overviews/rasters work as normal before publishing
- image service only works partially when published within a nested folder. Some rasters/overviews appear as normal, others appear as checkerboard. When I zoom in to the raster resolution below, the raster appears.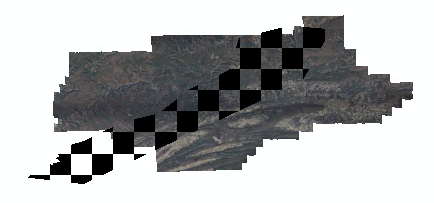 1 Reply

Not applicable
Mark as New

Bookmark

Subscribe

Mute
Hi Darren,
Checkerboard patterns in mosaic datasets/image services almost always mean that the server has access to the mosaic dataset location, but not the location of the underlying raster datasets. I would double check that the account running ArcGIS Server has full access to all the folders and subfolders where the raster datasets are stored, as well as all the subfolders in the ArcGIS Server directories.
This article is written for Windows, but it may still be helpful here: Problem: Mosaic datasets display a checkerboard pattern when viewed from a different machine
Calvin