Occasional Contributor III
Mark as New

Bookmark

Subscribe

Mute
Hi guys,
I am having a huge headache with my portal. hope you can help me in finding the solution.
after having installed portal and the two web adaptors for server and Portal (all the setups for 10.3.1) I cannot access the portal through the web adaptor.
the link https://FullNameOfPC/webadaptorname gives me the error:
"Request is not available in this context"
I can access the Portal through the 7443 but not the webadaptor.
Same for Portaladmin and Sharing/Rest
From PortalAdmin, the webadaptor seems to be registered.
I would probably need to reconfigure the webadaptor but I am not really sure how should I do.
Could you give me a hint?
I thought to unregister and then register again or uninstall and install again
(At the moment, since this is still a testing environment, the Certificate is a self signed one)
Thanks.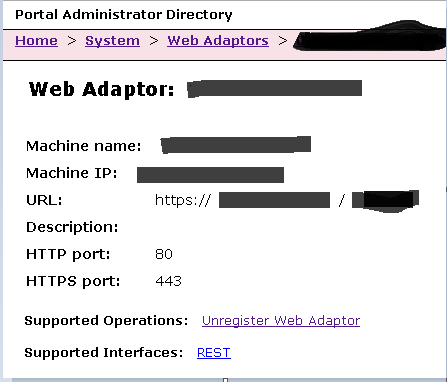 1 Solution

Occasional Contributor III
Mark as New

Bookmark

Subscribe

Mute
If Jayanta's suggestions don't work, I'd uninstall and reinstall the web adaptor for Portal.
If it were me and it's the Test env, I'd probably uninstall both Server and Portal WAs and reinstall them.
If you can, I'd also:
Use a CA cert. I've had issues that go away when we switched over from the self-signed cert. I doubt that's the problem here though.
Install with 10.4.1 Lots of improvements over 10.3.1
Since it sounds like your just starting to setup a Portal, I'd suggest looking at the Esri Chef Cookbooks for deploying a Full Stack Web GIS on a single machine. The benefits far outweigh the learning curve.
4 Replies