Occasional Contributor
Mark as New

Bookmark

Subscribe

Mute
I reinstalled a Relational Data Store for a Base Enterprise 10.5.1 deployment and Portal does not appear to be able to find the registered Managed Database. When loading a Portal page, it attempts to query ArcGIS Server for a list of managed databases via the Portal proxy page (<webadapter>/sharing/proxy) but the proxy is giving an HTTP 500 error.
Trying to load the proxy page directly in a browse shows a 403 tomcat error page.

Stripping the proxy and attempting to query the ArcGIS Server REST endpoint directly returns the expected result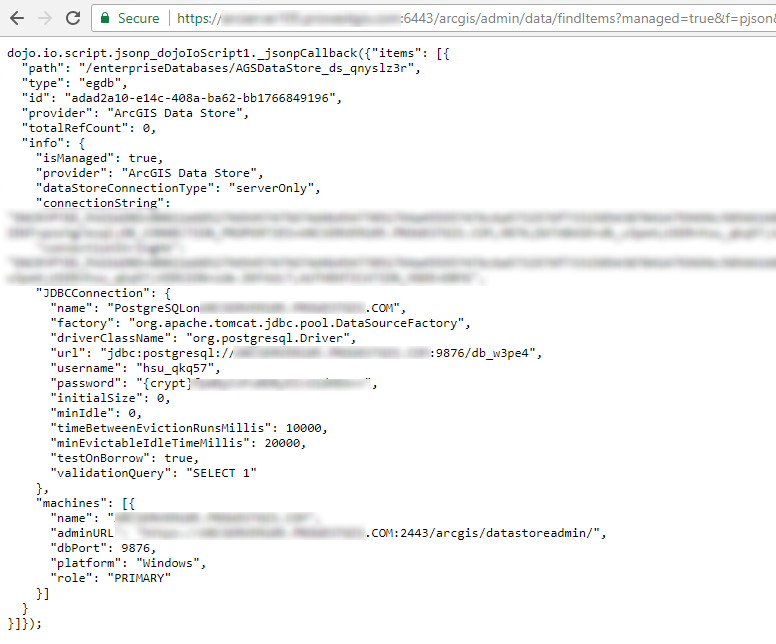 Looking for any suggestion on resolving this problem.
1 Solution

Esri Notable Contributor
Mark as New

Bookmark

Subscribe

Mute
If you're using a wildcard certificate from a domain signing authority, you need to configure Portal to trust the root domain certificate:
Configuring the portal to trust certificates from your certifying authority—Portal for ArcGIS (10.5....
The problem is that Portal will attempt to validate *.domain.com against the host of the services URL, services.domain.com. Since it doesn't match exactly, it checks the domain certificate. Since it doesn't trust the root certificate, the request fails. Once you import the root certificate into Portal, then you shouldn't have a problem.
4 Replies