New Contributor II
Mark as New

Bookmark

Subscribe

Mute
We are experiencing ArcGIS portal upgrade error with site administrator account creation.
We have upgraded ArcGIS 10.2.2 portal to ArcGIS 10.3 portal with default configuration ( no Active Directory connection and no other custom changes in old version)
Please see below screen. Please help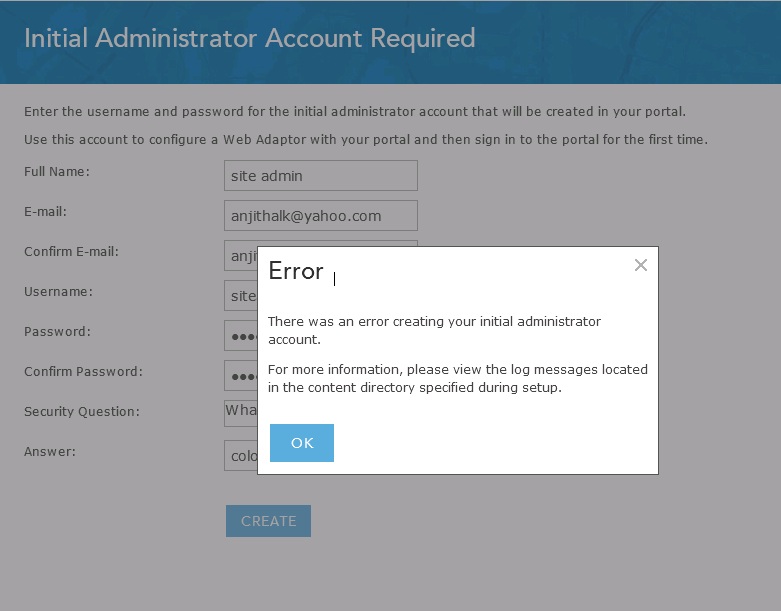 2 Replies

New Contributor III
Mark as New

Bookmark

Subscribe

Mute
I don't know about upgrading from 10.2.x to 10.3, I was having the same error when installing 10.3 raw. When reviewing the log file referenced in the Error Message, there was a line that said to "delete everything in the arcgisportal folder" or something similar. I believe it was not seeing the database store or some such thing. Finding information in this log should be key to your problem. I don't remember what I did to get ours working, but believe I deleted the folder and reinstalled Portal. But find and check your log file first. Again, I do not know if deleting the folder would negatively affect your 10.2.2 Portal data.

Occasional Contributor III
Mark as New

Bookmark

Subscribe

Mute
I know this post is a little old, but thought I would reply with one solution we did.
Using Firebug I could see the error that came though and it was related to the "Data Store".
To solve this I had to upgrade the Managed Database to the current version (in our case is 10.3.1)
Once that was done it worked.
Drew