Not applicable
Mark as New

Bookmark

Subscribe

Mute
I think I know the issue, which is that there are too many unique values - 700+. Of course this is a ridiculous number to try to provide unique colors for, but I don't need 733 unique colors. 20 unique colors cycled over and over would be fine. I just need different colors for each value and am willing to risk the occasional situation where 2 values have similar colors.
Is the large number of values the culprit? If so, is there any workaround? This chart won't work if I can't distinguish one site from another by color.
When I select, "Load Series" nothing happens.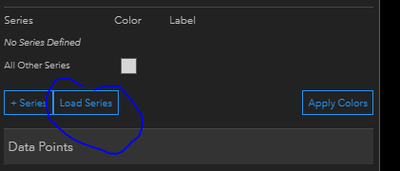 Thank you,
Randy McGregor
1 Reply

New Contributor
Mark as New

Bookmark

Subscribe

Mute
I also have this problem, and no sense of how to get around it. Is there a way to make the series symbology dynamic for instance based on filter selection?