Frequent Contributor III
Mark as New

Bookmark

Subscribe

Mute
I am wondering if it is possible to create an "if" or "iif" statement in a dashboard.
More specifically in Details or List.
I have tried a variety of options.
var cracking = $feature.FOUNDATIONCRACKING:
iif(cracking = 'Yes', 'Var1','Var2')
iif($feature.FOUNDATIONCRACKING = 'Yes', 'Var1','Var2')
We are using Enterprise and Portal
The information is coming from a Survey and is stored as part of a feature.
My intent for the results of this is when a answer is an aberration that I can make the font red.
In this example FOUNDATIONCRACKING is a question as to whether or not the foundation is cracking. If the answer is Yes I want to do something like this for the results of the "if" statement
<font color='red'>FOUNDATIONCRACKING</FONT>,FOUNDATIONCRACKING
1 Solution

by
jcarlson

MVP Honored Contributor
Mark as New

Bookmark

Subscribe

Mute
What version of Enterprise? In more recent versions where Arcade is available in Dashboards, this is fairly simple. In the Advanced formatting area, just use the expression you've given to create a "font color" variable, and pass that into the returned dictionary.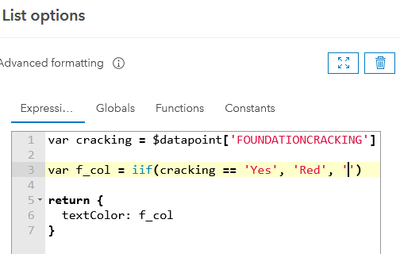 If you are on an earlier version, there's no way to accomplish this without a static field value, unfortunately.
- Josh Carlson
Kendall County GIS
11 Replies