New Contributor III
Mark as New

Bookmark

Subscribe

Mute

Email to a Friend
ejuser Oct 9, 2014 11:12 AM (in response to Robert Rayner)
I am experiencing syncing issues.
I have tried to the retrieve data with the collector script (42579 - Retrieve data collected while Collector for ArcGIS was used in disconnected editing mode). I get the following error: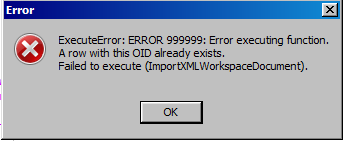 I have 2 point hosted feature services contained in a map that have been downloaded into Collector 10.2.6 on a Nexus7 tablet (wifi only). The services were published to AGOL with the max number of records returned by the server set to 5000. I have no attachments and editor tracking is not enabled.
I get no error messages, the progress bar just stops progressing after it jumps to either ~10% or ~90% complete. Is there any diagnostic tools available to assist me with understanding the issue further?
2 Replies

by
DeniseKing

Esri Regular Contributor
Mark as New

Bookmark

Subscribe

Mute

Email to a Friend

Please contact Esri Support to assist you in recovering the edits performed in Collector for ArcGIS app which failed to sync to the geodatabase. Esri Support has removed KB article #42579 as it was a possible solution for
a very specific scenario involving Collector for ArcGIS app 'edits failing to sync' but was mistakenly used by users outside of the supported scenario which resulted in error messages as you have encountered.
IF you are receiving the Error 'A row with this OID already exists.' after running through the Python script provided in KB #42579, contact Esri Support and be ready to provide copy of your .geodatabase file from the device. Esri Support can run your .geodatabase file through the new 10.3 'Copy Runtime Geodatabase File to File Geodatabase' tool in Conversion Tools > To Geodatabase toolbox.

New Contributor
Mark as New

Bookmark

Subscribe

Mute

Email to a Friend
Hi, after successful syncing of collected data using Collector version 10.2.7 for the first two days in the field which was installed in tablets (Xplore model); the following error messages keeps displaying ..."An error occurred while synchronizing edits.".... thereafter some data will sync while others won't, since I downloaded 2-3 different base map with features for offline use.
I need this pending data on the tablets yet to be sync to the ArcGIS online server : http://bmgf.maps.arcgis.com/home/webmap/viewer.html?webmap=4144934d743e4ca1a123673cff4688dd
Please help me resolve this.
Thanks.