New Contributor
Mark as New

Bookmark

Subscribe

Mute
Hello community
I created a model in CityEngine that contains different layers and i tired to export as a filegeodatabase to perfom some analysis on arcgis pro.
But I get the error : "The batch export completed but at least one error occurred. See export logfile for detailed error information"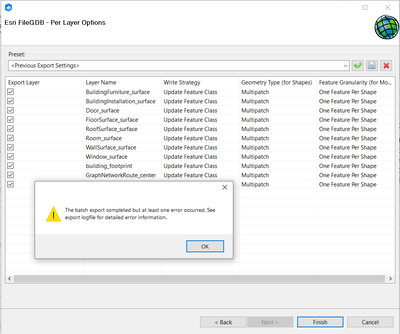 In order to solve the error, i checked the problem windows and apparently every model has a generating failed problem ( see screen below) but the models are generated in the view.
Could u please suggest some solutions ? or maybe suggest another approach to export the model to arcgis Pro?
1 Reply

Esri Contributor
Mark as New

Bookmark

Subscribe

Mute
Hi @Wiama99,
Your screenshot is cut off a bit, so the full error message is not visible. Can you right click on one of the entries and make a screenshot of the "Event details" window or even better export (Right Click -> Export Entry...) on of the entries and attach it here?
Just guessing from the "unknown rule":
Are there any errors in your rule?
Have the shapes you want to export the rule correctly assigned? Meaning is the path valid?
Does everything look good in your scene when you re-generate?
Also what version of CE are you working with?
Best,
Jonas